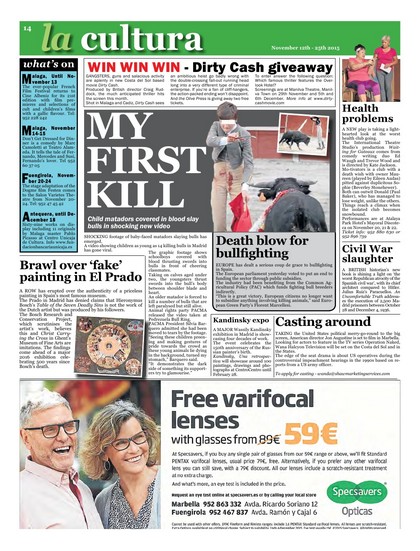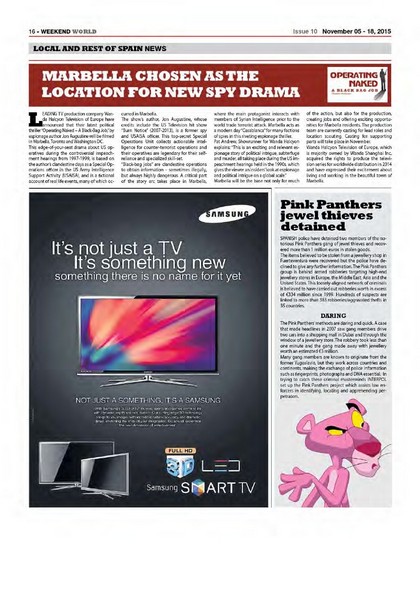 Wanda Halcyon
Press Release
Leading TV production company Wanda Halcyon Television of Europe have announced that their latest political thriller "Operating Naked – A Black-Bag Job," by espionage author Jon Augustine will be filmed in Marbella, Toronto and Washington DC.
This edge-of-your-seat drama about US operatives during the controversial impeachment hearings from 1997-1999, is based on the author's clandestine days as a Special Operations officer in the US Army Intelligence Support Activity (USAISA), and is a fictional account of real life events, many of which occurred in Marbella.
The show's author, Jon Augustine, whose credits include the US Television hit show "Burn Notice" (2007-2013), is a former spy and USAISA officer. This top-secret Special Operations Unit collects actionable intelligence for counter-terrorist operations and their operatives are legendary for their self-reliance and specialized skill-set.
"Black-bag jobs" are clandestine operations to obtain information – sometimes illegally, but always highly dangerous. A critical part of the story arc takes place in Marbella, where the main protagonist interacts with members of Syrian Intelligence prior to the world trade terrorist attack. Marbella acts as a modern day "Casablanca" for many factions of spies in this riveting espionage thriller.
Pat Andrew, Showrunner for Wanda Halcyon explains; "This is an exciting and relevant espionage story of political intrigue, subterfuge and murder, all taking place during the US impeachment hearings held in the 1990s, which gives the viewer an insiders' look at espionage and political intrigue on a global scale."
Marbella will be the base not only for much of the action, but also for the production, creating jobs and offering exciting opportunities for Marbella residents. The production team are currently casting for lead roles and location scouting. Casting for supporting parts will take place in November.
Wanda Halcyon Television of Europe, which is majority owned by Wanda Shanghai Inc, acquired the rights to produce the television series for worldwide distribution in 2014 and have expressed their excitement about living and working in the beautiful town of Marbella.
Online Results
PR Value: 6800€