Merry Christmas from Shaw Marketing Services
We wish you a wonderful Christmas and a successful, prosperous New Year!

Please note that our office will be closed from 22nd December to 7th January
Marketing Inspiration

Start your year off the right way with an inspirational, motivational and practical one hour marketing masterclass, followed by informal networking on January 22nd from 10am till 12. This masterclass will give attendees practical advice for starting off the year with the right marketing and communication strategy to maximise success.

January Networking Event

Networking is the best way to cost-effectively promote your business, so we're looking forward to our first Manilva networking of the year on Wednesday 21st January at the Manilva Wine Museum.

Please put the date in your shiny new diary and come and join us (women only I'm afraid!)

Marketing Resources

As a Christmas present for all those friends of Shaw Marketing Services, I wanted to share with you some brilliant resources which you can use to learn more about marketing and promotion. There's so much out there which can give you a head start and get you thinking in a different way to make your business more of a success. Here are some of my favourite resources..

Hubspot – This is a great font of knowledge about email marketing, with loads of guides and inspiration

The Marketer – This is the magazine of the Chartered Institute of Marketing and has articles, guides and advice about marketing, a brilliant read

Vocus – This has loads of good information about Public Relations and digital marketing

Shaw Marketing Services Blog – You can browse our archives of marketing focus articles on our blog for information about marketing in general and on the Costa del Sol. There's loads of great information on there and we add new articles all the time, so check back regularly

Georgina Recommends... Hanuri Korean BBQ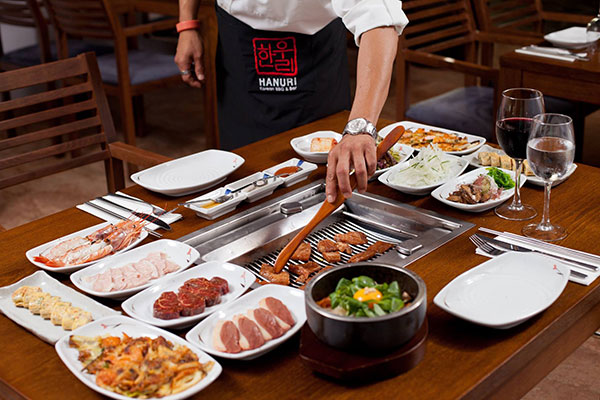 We recently visited Hanuri Korean restaurant in Calahonda and were blown away by the delicious Korean cuisine, the indoor barbeque experience and the wonderful service. If you've never tried Korean food before but love Asian cuisine such as Chinese and Japanese, you must give this a try it's brilliant. We have written a review on our blog which you can read here.

There's a massive bar/lounge area upstairs perfect for celebrating over Christmas and New Year and they have just announced two special festive menus. The Christmas Eve menu has two options to enjoy either in the restaurant or in the lounge and showcases some of the best dishes on their menu including the traditional BBQ, black cod and the delicious rice dish served in a hot bowl (Dolsot Bibimbap), scallop in a special bisque followed by a Christmas dessert and accompanied by a glass of cava and a glass of wine, for 40€ per person. There's also a New Years' Eve feast with welcome drink and canapes, 5 delicious courses, as well as grapes, cava and sweets to celebrate the New Year for 55€ per person and you can head up to the bar after to continue the party.

Copyright 2014. © Shaw Marketing Services SL.
All Rights Reserved.