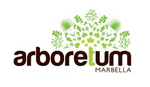 SMS collaborates with Arboretum
We are very pleased to announce our collaboration with environmental charity, Arboretum Marbella. Arboretum is an exciting charity creating a people's forest in Marbella. This forest is being made up of native species to the region of Malaga including trees, shrubs, grasses and vines. It is a beautiful green space which benefits the environment, community and local tourism, and is created entirely by and for the people. As well as creating a beautiful public park on deserted old scrub land, an important part of the project is to educate adults and children on the environment, trees and sustainable land management.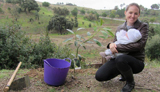 Shaw Marketing Services is committed to supporting local charities and we are delighted to have signed an agreement with them to offer free Public Relations Services to the expat press on the Costa del Sol. Our PR work will help them with their goal to engage the foreign population in this great project and has already helped them attract volunteers for their events and raise awareness. As part of our involvement Georgina and Andy went to plant an avocado tree on the site for their 2 month old baby which will grow with him as he gets bigger.
If you would like to be involved in the 'People's Forest', you can go and lend a hand at their next volunteers event on Saturday January 14th from 10.00-12.00. If you want to attend contact us and we'll confirm with the charity. All ages are welcome as long as you don't mind getting your hands dirty!