A countryside getaway in Montejaque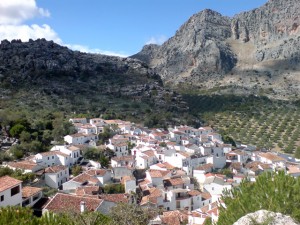 Last weekend, Andy and I got away from it all in the pretty white village of Montejaque, near to Ronda. We were invited to stay at Carrie's Casa, a cosy and quirky cottage in the village and we gratefully accepted!
Unfortunately for us the weather turned and it poured with rain for the whole of Saturday, but we were able to cosy up in front of the log fire, read books and watch films whilst the rain lashed down outside and it was actually a good excuse to do nothing and relax. Carrie left us a great selection of food and drink including a nice bottle of wine, so we were able to pull up the drawbridge and not venture out into the rain.
The sun came out on Sunday and we were able to have a quick explore of the Montejaque itself. It's a very sweet village, with lots of bars, small independent shops and a few restaurants. There's a real community feel with everyone saying hello to you in the street and chatting in shops and the countryside around it is breathtaking. Carrie tells us that this is a great base for walkers, and she's got copies of the most popular local walks at the house for guests. I'd certainly like to try it in better weather!
Carrie's Casa is a great base for couples wanting a romantic weekend getaway in the mountains and would also suit a group of 4, as the sofa turns into a bed. It has been lovingly decorated and filled with items from all around the world and would inspire artists and those looking for an alternative to soulless hotel rooms and new build apartments. It's 85€ per night for a minimum of 2 nights from October to June and then it goes down to 75€ per night during the summer as there's no heating costs. If you book weekly it's 450€, which works out cheaper.
To find out more about Carrie's Casa and book, please contact Carrie Bone by email  chattymoon@hotmail.com  or call 625 387 273.