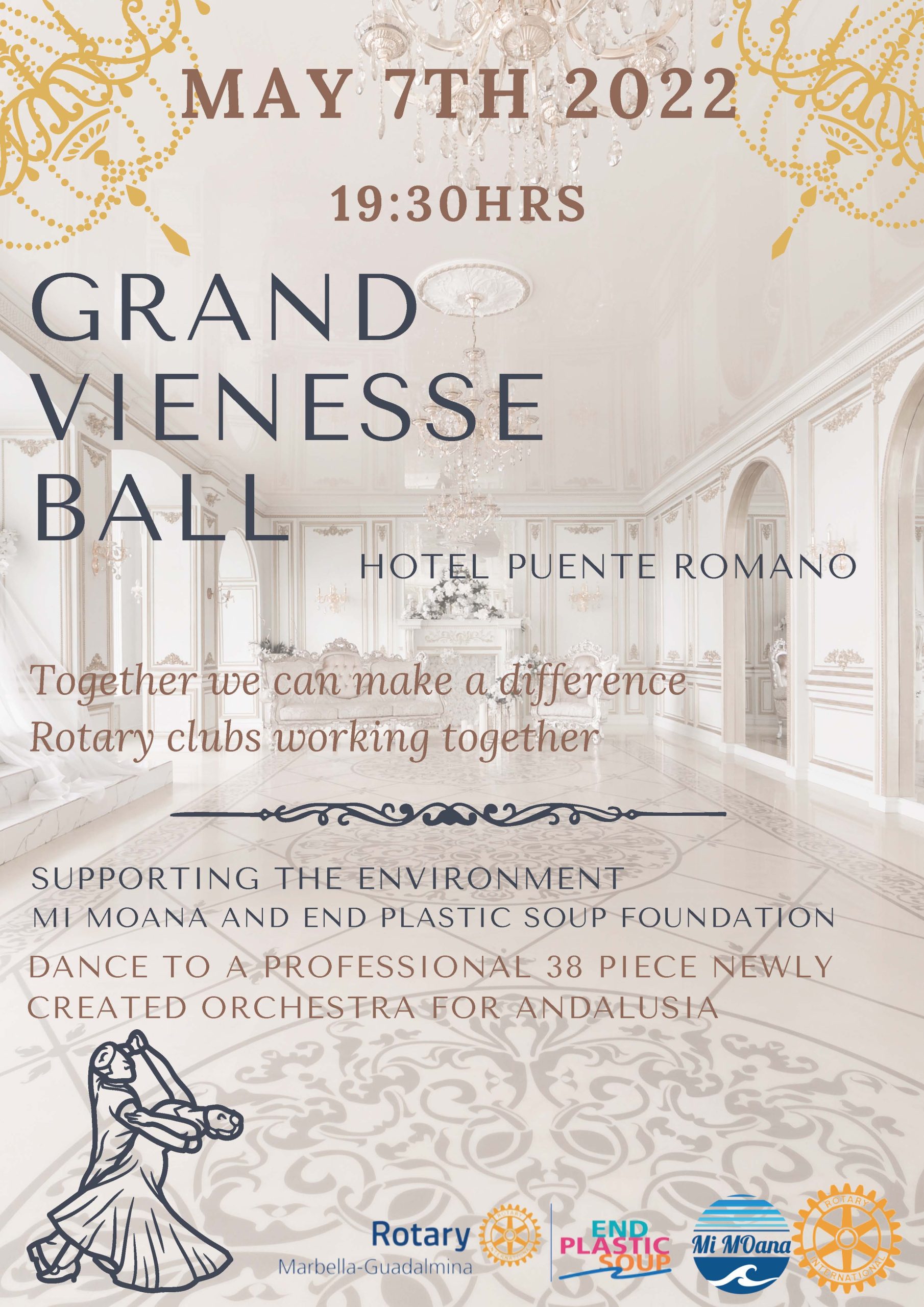 A Unique Event To Raise Funds For The Environment
The Rotary Clubs of Mijas International and Marbella-Guadalmina are organising a very special VIENNESE BALL on Saturday, 7th May 2022 at The Salon Andalucia, Hotel Puente Romano, Marbella. The main sponsor for the event is Talk Radio Europe who has made this evening possible.
The event will one of elegance with fine food, wine and dancing, and of course, the best music of Vienna. The dress code will be Black Tie and guests are invited to take to the floor and dance to the romantic music.
The event will also launch a new orchestra, "Orquesta de Camara Andaluza" which is focused on creating opportunities for classical musicians aged between 22 and 32 years, in this region. They will perform on this special evening, all the favourite classics, from Strauss and Vienna.
The main focus of this event is charity and it will be a perfect opportunity for guests to attend a very special evening and help the environment at the same time. The fundraising will go to three projects:
ROTARY CLUB MARBELLA GUADALMINA – END PLASTIC SOUP PROJECT
Placing Plastic waste collectors in the form of Fish Sculptures along the coast in prominent locations to bring awareness to the general public. They are working with Town Halls and local restaurants.
The Rotary Club Marbella-Guadalmina was founded 10 years ago as the first international club on the Costa del Sol. In 2020, it received the Medal of Honour from the City Council of Marbella for its support of local social projects.
RC Marbella-Guadalmina is an Ambassador club for the global environmental initiative: End Plastic Soup (EPS). A Rotary initiative that began in Amsterdam in 2018. The stated objective of EPS is to ensure that by 2050, there is no more plastic waste in our oceans, seas, lakes, forests, rivers, parks and streets. Today, EPS has projects worldwide and is supported by over 250 clubs in 34 countries including 70 Ambassador clubs
As Rotary People of Action, we organize clean-ups, raise awareness, encourage responsible disposal of plastic waste and support educational projects focused on pollution with plastic waste and work together with relevant local initiatives under the motto : Refuse, Reduce, Reuse, Recycle
MIMOANA – EDUCATIONAL PROGRAMME AND PLASTIC FREE CERTIFICATE FOR RESTAURANTS AND BARS
Mi Moana invented a Certificate to reduce plastic. This certificate, that is unique for Spain, can be obtained by all establishments in the hospitality sector at the Costa del Sol and hopefully the rest of Spain. It will encourage them to eliminate single-use plastic and to use alternative products in order to make Spain more sustainable and promote zero waste practices. The certificate is focused on customer-facing products and items that have possible alternatives, such as straws, glasses, utensils, food-trays, single-dose food products, coffee capsules or teabags, disposable plastic bags, bottles and toiletries (like soap, cotton buds etc). This certificate will be printed on paper made out of recycled stone and printed with eco-friendly ink. Obtaining this certificate is free of charge. Participating establishments will be giving recognition on our social networks and website. The more products and items a business removes or replaces, the higher the ranking will be. (for example, remove 3 articles of single use plastic and get one Reduce plastic label). These can be put on windows etc. Every month a mystery guest will check the participating establishments. For this we will need funds.
MI Moana would like to raise funds to cover the cost of translating their educational program for other countries besides Spanish speaking schools. We believe that educating kids, especially in the age of 8 to 13 years will be essential in reducing and limiting our single use plastic.
ECOMARB – FUNDING A SPECIAL SURFBOARD MADE FROM RECYCLED PLASTIC FOR SARAH ALMAGRO, THE YOUNG SPORTSWOMAN FROM MARBELLA
The ECOMARB project was born in Marbella and its surroundings, a platform for research, awareness and action with the aim of recycling and reusing the waste generated by the city, through collaborative projects with people, private and public companies for the promotion of the circular economy and the development of a sustainable lifestyle, in respect of the environment and people.
Aware of the need for a paradigm shift, ECOMARB takes action, launching creative actions and initiatives in the development of the circular economy and compliance with the 17 Sustainable Development Goals.
Their Ongoing projects:
Surfboard made from recycled plastic
A second life tennis and paddle tennis ball
The 100% recycled golf ball
Sponsor of hives for bees
Ecomarb classroom
Children's theatre play
The ticket price for this event is: 150 Euros
For more information on the event, please send an email to:
straussballmarbella@gmail.com