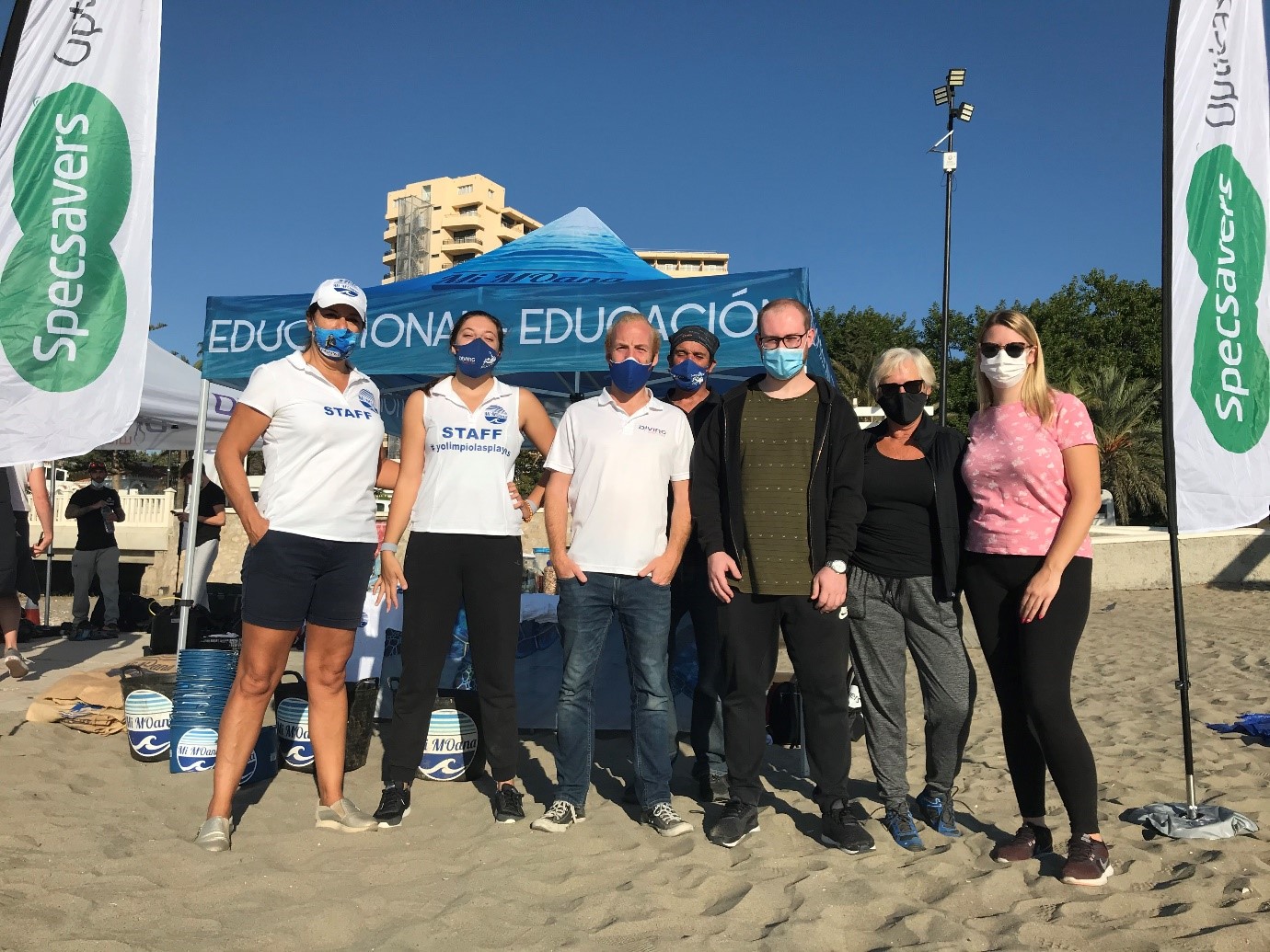 Back to cleaning the beaches and protecting the ocean in the "new normal"
VOLUNTEERS have united for a beach and underwater clean-up on the Carvajal Beach in Fuengirola, to clear the extra rubbish and plastic that has built up since the pandemic.
Organised by environmental charity Mi Moana and the DivingwithNic Community Clean-Up Team, the clean-up is seen as an important step to getting back to normal and refocusing minds on the important matter of the environment. On Saturday (17 October), 300kg of rubbish including face masks, cigarette butts, rope, fishing line, cans and bottles was collected in just a few hours, bringing Mi Moana's total of rubbish collected to over 3,000 kilos since the charity was founded.
More than 80 people volunteered at the event, which is in collaboration with the Fuengirola Town Hall and sponsored by Specsavers Ópticas Fuengirola, TOGI Data and Ecocean Green Solutions. Divers took to the sea with DivingwithNic, while volunteers cleaned the beaches, for a highly effective two-pronged attack on rubbish that could harm wildlife and pollute the sea.
Sponsors Specsavers Ópticas Fuengirola were delighted to be able to take part in the event.
Lauren Prince explains: 'We have recently agreed to sponsor Mi Moana for a second year, as part of our commitment to protecting the environment. We stopped using plastic bags in store last year and we also help our customers to recycle their old glasses through the Lions Club's glasses recycling programme. We are really happy to be able to fund the great work that Mi Moana is doing. There's nothing better than going down to your local beach and knowing that because of you, your community will be a little cleaner and safer for wildlife. We're delighted to join the beach clean, alongside the organisers and the amazing volunteers.'
The team announced at the event, that they would offer 25% off a complete pair of glasses from their 89€ range for volunteers who took part, or who clean beaches with Mi Moana in 2020. Contact the store by calling 952 467 837 or email customer.fuengirola.es@specsavers.com to claim your discount.
Natasha Wegloop, founder of Mi Moana, says, 'It is so great to be back holding our beach and underwater clean-ups. This is our second event since we were forced to stop due to the lockdown and the beaches are not in good shape. You can really notice the impact of the pandemic, with masks, gloves and bottles of hand sanitiser joining the normal rubbish and plastics on our beaches and in our seas. Recently it was reported that a penguin died after swallowing a face mask, so we really need to take care in how we dispose of these new necessities. I want to say a big thank you to all our supporters, sponsors and amazing volunteers who come to these events and make a difference to our environment we look forward to doing many more.'
To find out more about the charity, take part in their next event, or become a sponsor visit www.mimoana.com or follow them on Facebook .