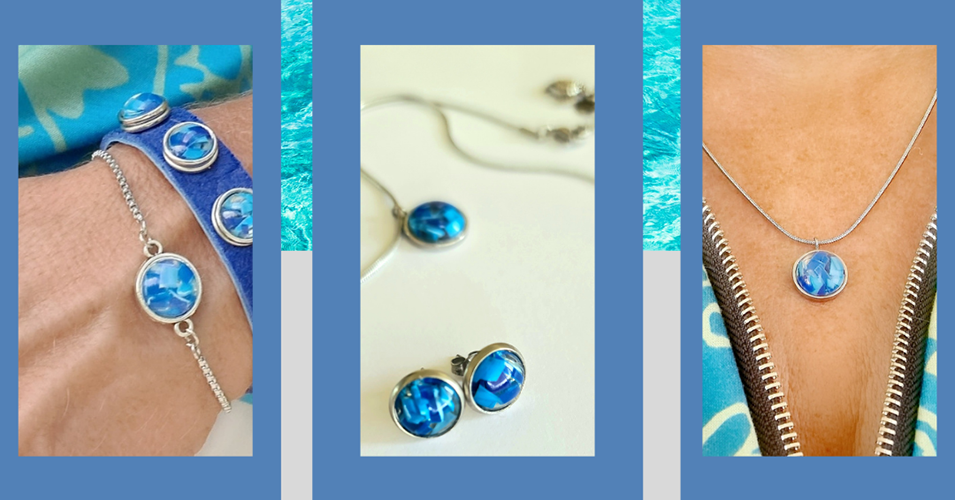 Beach Trash Making Beautiful Christmas Gift Treasure
What could be a more perfect gift to give this Christmas than zero carbon, 100% sustainable and locally handcrafted jewellery that cleans up our beaches and oceans at the same time? Mijas Costa based charity, Mi Moana, made up of mother and daughter Natasha and Nicky, have created the ultimate win/win form of plastic pollution eradication that's great for the planet and locals alike – beautiful jewellery made from rubbish collected on the Costa del Sol's beaches.
Ideal for both men and women this Christmas, Mi Moana's collection of planet-friendly jewellery is proof that ocean trash can be turned into something gorgeous. Featuring coloured pieces of plastic suspended in a plant-based epoxy resin and encased in stainless steel, the jewellery is lovingly handcrafted, making each and every piece unique.
Mi Moana, which means 'My Ocean' in Hawaiian, is a non-profit charity started by Natasha and Nicky in 2019 with the goal of reducing ocean pollution. With the help of over 1,000 passionate volunteers, they have so far collected an incredible 5.5 tonnes of plastic from our coastline.
As well as regular beach clean-ups, the mother and daughter team are dedicated to hosting environmental awareness education programs in schools and businesses, and conservation and regeneration programs to help protect our oceans and their inhabitants. They saw an opportunity that didn't just remove rubbish from the Costa del Sol's beaches, but could raise money for their charity and its continued efforts through the sale of jewellery made using the multitude of plastic waste collected.
With corporate offers also available, their range of ingeniously crafted and well-priced bracelets, necklaces and earrings would make an ideal Christmas present for a friend, family member or colleague. Each purchase provides the much needed funds for Mi Moana to achieve their mission of keeping our beaches and oceans free of rubbish, as well as offering vital conservation education to the next generations.
These days more than ever before we all want to do our bit to keep our beaches and oceans free of plastic. Whilst we may not all have time to dedicate to beach clean-ups, this is one way we can help to support Mi Moana's wonderful efforts at looking after our planet.
Visit their webpage at www.mimoana.org or follow them on Facebook to buy, donate, sponsor or join one of their upcoming beach and underwater clean-up events. Businesses are also welcomed to join the growing list of local enterprises in donating to or sponsoring Mi Moana's wonderful efforts.