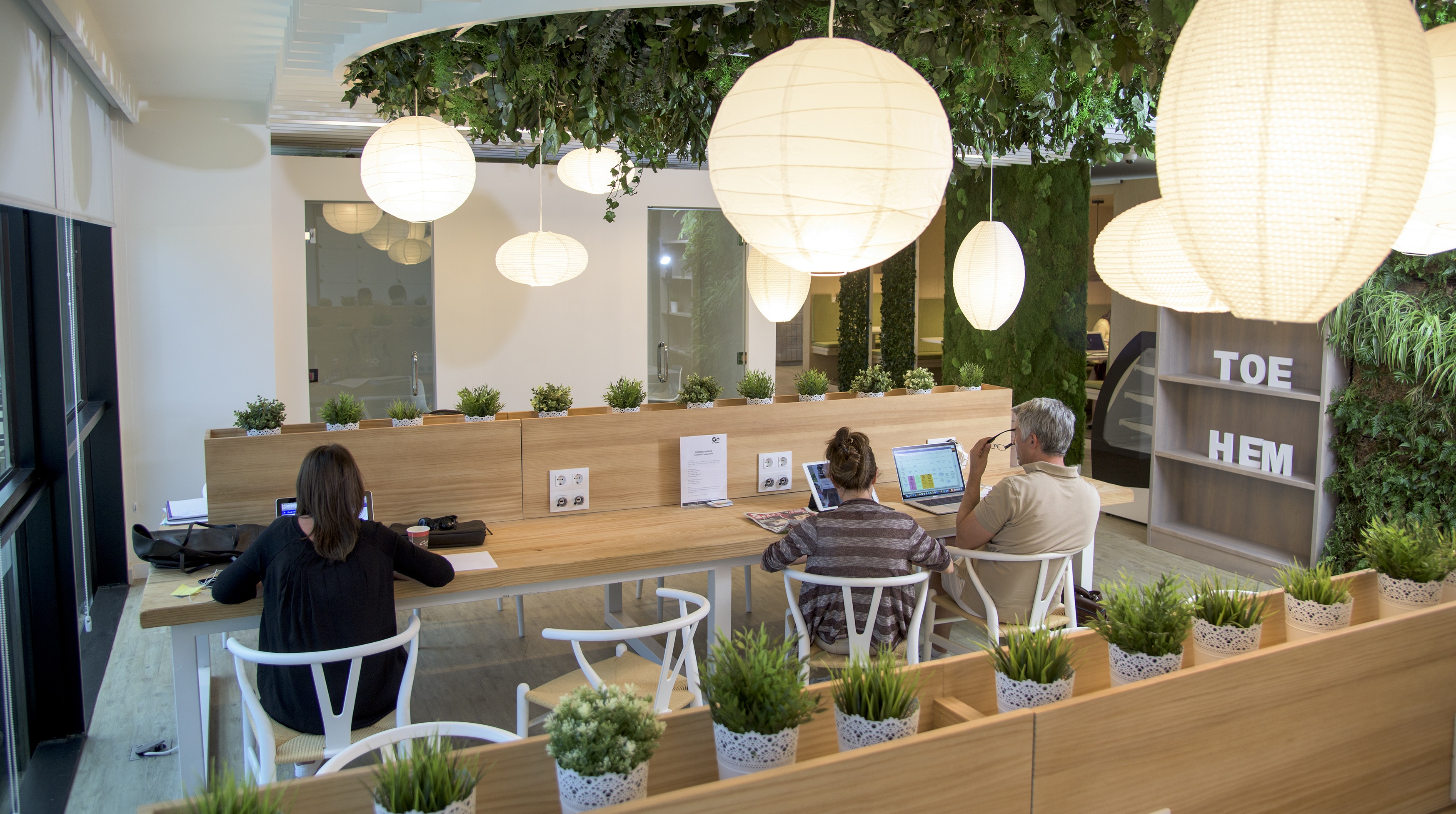 Becoming a hotdesk member at Our Space Marbella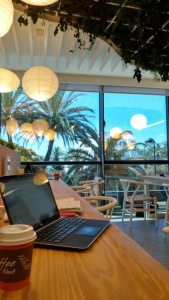 It's day 1 of my week of hot-desking at Our Space coworking centre in Marbella.  Time to get signed up for my membership and find out all the ins and outs of using a hotdesk! I usually work from a home office and this is my first experience of coworking. I am very excited to give it a go and share my experiences with you.
For those of you who don't know, coworking is to work from a shared office space with communal facilities shared by numerous businesses and individuals for a monthly fee. This social way of working encourages cooperation, collaboration and networking and has been proven to help business succeed.  It is a quick, easy, flexible and affordable way for SMEs and corporations to have access to full business facilities,  and has become wildly popular all over the world. Here's a great introduction to coworking to give you a bit more information.
When I arrive at Our Space, I am immediately greeted by the receptionist Maria, and then Maya the Membership Sales Manager. She manages  the "onboarding" and gets me signed up and ready to go. The first step is to fill out a simple form about yourself and your company, and then talk to the team about what you're looking for and why, so they can find you the best solution. There are three options – a private office (these come in different sizes), a permanent desk and hot-desking.
Maya explained clearly what options are most suitable for various types of professionals –
Private Offices – If you deal with confidential information, have lots of files or things you need to store, if you need to speak on the phone often and want privacy, or if you want to have a separate space for your team.
Permanent Desks – If you need a large desktop computer, have files to store (you get a dedicated locker to use for this), don't like to carry around your laptop, or simply like the idea of having your own desk ready to go each morning as you like  it.
Hot Desks – If you can work from your laptop, your mobile and diary and don't have a lot of things to take around with you, then this is the best option for you. It's the most cost effective option, you have access to all the facilities and services and can use some shared lockers if you need to go out for meetings and don't want to take your laptop with you. You can use a wide range of spaces from sofas or comfortable chairs, to booths and formal desks, and can move around as and when it suits you.
Hot desks is going to be the focus of our series of blogs, as it's the least understood, most affordable and flexible option for many creative professionals  like myself. It's a great option for people who want to get out of their home or coffee shops and have a professional environment with excellent business infrastructure to support productivity.
Once I understand the different options available to me, Maya gives me a tour of the fantastic Our Space facilities. I am really impressed by all the extra benefits that come with a monthly fee of 199€. One massive selling point for small businesses is that there's no minimum term or deposit, just a one month rolling contract which can be cancelled with just 5 days' notice.
Here are the highlights –
Reception service 9am-6pm Monday to Friday
24/7 access using fingerprint technology
Super fast internet and unlimited printing and scanning included
Free tea, coffee, water and soft drinks and a kitchen with fridge and microwave
Phone booths for video conferencing, Skype or private phone calls
4 hours of meeting room use per month
Access to free events, training and networking each month
A growing global footprint with 50 locations coming soon for members to use when they travel
Online member portal where you can book meeting rooms, find out about events, training and connect with other members – Maya described it as Our Space's version of LinkedIn
One month rolling contract and no minimum term
A myriad of lifestyle benefits such as at-desk massages, yoga and stretching classes, bikes for hire and a new relaxation room (coming soon to Our Space Marbella this June 2017)
After my tour and the explanation, I am signed up as a member, the first month's payment is taken and I have my fingerprint scanned and stored into the system, giving me 24/7 access to the office for any after-hours work needs. Maya also shows me how to use the online portal. I am given the internet password for use on my phone and laptop, and sent an email with instructions on how to connect to the printer.
Within an hour, I am all set up, ready to work and really excited about all the opportunities that coworking can give me and my fellow small business owners and entrepreneurs. I am very much enjoying the unlimited flow of coffee and ice cold filtered water. The greenery and natural textures found in the design of the space helps me focus, boosting my productivity while keeping me calm and quite settled. I have already taken the chance to meet with one of the fellow members and gotten loads done. Looking forward to tomorrow!