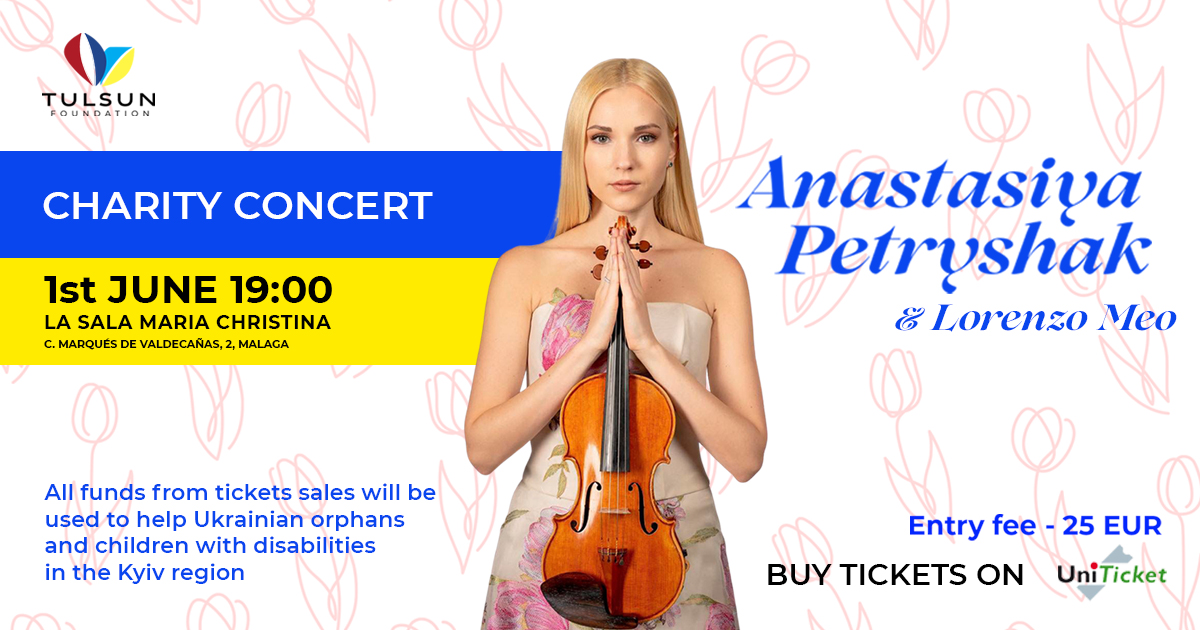 Charity concert by Anastasiya Petryshak in support of Ukrainian orphans
A charity concert by the internationally renowned violinist Anastasiya Petryshak will be hosted by the TulSun Foundation on Wednesday 1st June, 19:00 hrs, at the Sala María Cristina in Málaga, in support of Ukrainian children displaced by the current war.
Anastasiya Petryshak will perform works by Maurice Ravel – who debuted one of his famous works in this very concert hall – John Corigliano and Myroslav Skoryk, accompanied by Italian pianist Lorenzo Meo. The proceeds of this elegant fund-raising event will go entirely to supporting orphans and children with disabilities from the Kyiv region.
Tickets can be purchased via: http://surl.li/bxuzd
Open doors at 18:00
Concert program duration – 1 hour (without intermission)
Entry fee – 25 EUR

Anastasia Petryshak is a bright example of Ukrainian nation talent. The girl from Ivano-Frankivsk started playing the violin when she was five years old aged 20 made her debut as a soloist in Italy. She is the first and youngest Ukrainian violinist entrusted to play on "Il Cannone" violin, which belonged Nicolo Paganini. Accompanying Anastasia on the stage will be Italian pianist-virtuoso Lorenzo Meo, one of the best representatives of the Italian piano school of his generation.
The concert is organised by the charitable TulSun Foundation, which has been helping Ukrainian orphans and children with disabilities for more than five years and is now intensifying its efforts during to the current war. There are presently 350 children from five orphanages in the Kyiv region under the care of TulSun`s team, which provides much-needed health, educational and humanitarian care.
At 4am on 24th February the sound of explosions disrupted the peaceful lives of many children, creating a humanitarian crisis that the TulSun Foundation works hard to ameliorate among those who need our help and support the most. The goal of this charity concert is therefore to provide immediate war relief and help offer a better future for Ukrainian orphans and children with disabilities that have been affected by war. Please help us in this mission!