Costa del Sol People – Regina Bodych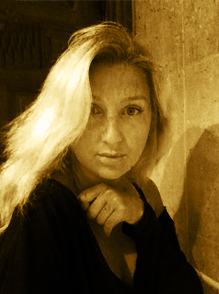 In a new feature for our blog, we are going to introduce some interesting members of the community on the Costa del Sol to show the variety of the people, their work and lives in this great place. We hope this will be interesting and enlightening, please let me know if you'd like to be featured, or there's someone you can recommend.
Our first featured person is the artist Regina Bodych, who I met a few months ago and was really interested to see her work and meet her at an important stage in her career – preparing for her first solo exhibition and establishing herself into the Marbella art scene. Below is an overview of Regina and what she's up to.
Regina Bodych is a young artist with a varied international upbringing. Born in Poland in 1990, she moved around Europe as a child and was influenced by her Polish, German and Russian heritage. She moved to Marbella in 2010, as she was attracted by the weather, the lifestyle and the mix of people from all over the world.
As long as she can remember she has been drawing and painting, coming from an artistic family and always having an interest in art. Regina has always wanted to create her own path and draw on her own experiences and emotions in the creative process. She is totally self taught, preferring not to be limited by formal training and the established techniques and styles, but rather make her art a spontaneous, fluid and free process.
She comments that the art she creates comes from her soul, so that each piece is an important part of her, as well as representing a moment in her life. Perhaps this is why each piece is imbued with so much power and mystery.
Although young, her career as a painter started early, selling her first pieces to fund herself through college at 18 years old, and officially becoming a professional artist at 20. This coincided with her move to Marbella, a place which has inspired her and focused her art, developed her unique style and taken her pieces in a different direction.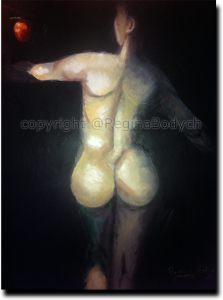 In Marbella she saw an enormous variety of people, of different nationalities, colours and creeds, celebrating their own unique sensuality. Each day walking down the street, or visiting the clubs and bars of this famous city, she observed hundreds of inspiring individuals with startlingly different appearances, from the structure of the face, body composition and skin tone, to their movements and the way they carried themselves. Each of these people she noticed had a bright inner light shining through their eyes and expressions and she saw the art in people.
This inspired her to start painting people, not from models, but instead from her mind's eye, bringing together many women that had inspired her from Marbella's busy streets and varied social scene, where the dancers particularly fascinate her. She depicts these people nude, celebrating their form, but also disrobing them to bare their soul and expose the light that lies within.
"People are energy" she comments "what inspires me about the people in Marbella is that we have all felt outsiders in our own countries and have come here searching for something. There is a feeling of connection and also freedom here to be who you want to be and you can see in people's eyes the liberation of their inner energy as a result. As an artist this is exciting to see and to feel and I want to bring out that energy, as well as the sensuality and the mysterious, multifaceted nature of women's souls in my art."
She has exhibited to private collectors and groups of art lovers who love the classical painters and connect with her work. Regina is now moving into a new and exciting phase of her artistic career and is ready to start displaying her art to the world. She is in talks with galleries and events to arrange exhibitions and is looking for collaborations to allow art lovers to enjoy her special work.
View Regina's work – www.reginabodych.com or email info@reginabodych.com to contact the artist.