Data Protection in the 21st C Foundations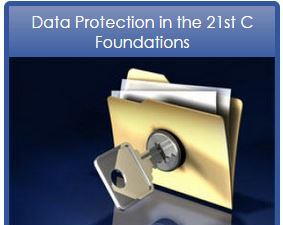 "POOR DATA PROTECTION PRACTICES RISK DAMAGING YOU MOST VALUABLE ASSET  – YOUR CORPORATE REPUTATION"
Thursday 12th February 2015, 10.00-13.00, Andalucia Lab, Marbella
Trainer – Data Protection Expert & Professional Trainer Peter Bosbury
Course Overview
If you and your personnel do not know or understand how to maintain confidentiality of information, or, how to secure it appropriately, not only do you risk having one of your most valuable business assets (information) mishandled, inappropriately used, or obtained by unauthorized persons, your organisation also risks being non-compliant when viewed against the requirements of the European and Spanish Data Protection legislation.
Protecting Data held by businesses is not only essential ethically, but also, demanded legislatively. The Foundations course acts both as an introduction to the topic of Data Protection and as an annual Continuous Professional Development (CPD) refresher course for all employees.
This 3 hour Data Protection Foundations course is geared to promote knowledge and understanding of individuals and companies, their roles and responsibilities when dealing with Data and, in particular, recognising the difficulties of Data Risk Management in the world of modern cross-border communications in the 21st Century. The course makes use of videos, interactive practical sessions and full presentation facilities to communicate the material. There are a number of hand-outs made available for delegates to take back into their work place for future reference.
Cost – 75€ per person
To book your place please email info@shawmarketingservices.com
Course Agenda                     Agenda topics include
The background to the Data Protection Act and what it is all about
Data Protection in Spain
The 8 Principles of the Data Protection Act
DP Terminology at their meanings
Modern communication methods and measures to be taken to mitigate risk
Appropriate controls required for 21stCentury IT facilities.
Company responsibilities
Individual's responsibilities
The consequences of getting it wrong                                                             
 Benefits for delegates        Delegates will gain the following;
An overview  of the background to Data Protection
An understanding the requirements of legislation
Where to go for information and support
An awareness of the principles that are foundational to Data Protection and how they impact on Company Data Protection Policy & Procedures
Understanding the meanings associated with Data Protection terminology
How to work under the Data Protection legislation
Understanding the control measure that need to be in place to mitigate risk of breaching the Data Protection Act
An insight into the responsibilities of companies
A full understanding of individual's responsibilities
How to evaluate various scenarios to see if Data protection legislation has been breached
The consequences of getting it wrong
Trainer – Peter Bosbury, P&B Training
Peter is an Honours Graduate who has been a financial services professional for over 25 years with experience across the regulated industry. He has been a hands-on Line Manager and has held various senior management and Directorship roles in numerous companies, both in Gibraltar and in the UK.
Peter is a highly respected trainer in his own right having had his own training business in the UK and has trained the staff of such prestigious companies as Abbey National, AVIVA and the Principality Building Society amongst others in the UK and the Gibraltar Savings Bank, Treasury and other leading organisations and companies here in Gibraltar.
To book your place please email info@shawmarketingservices.com