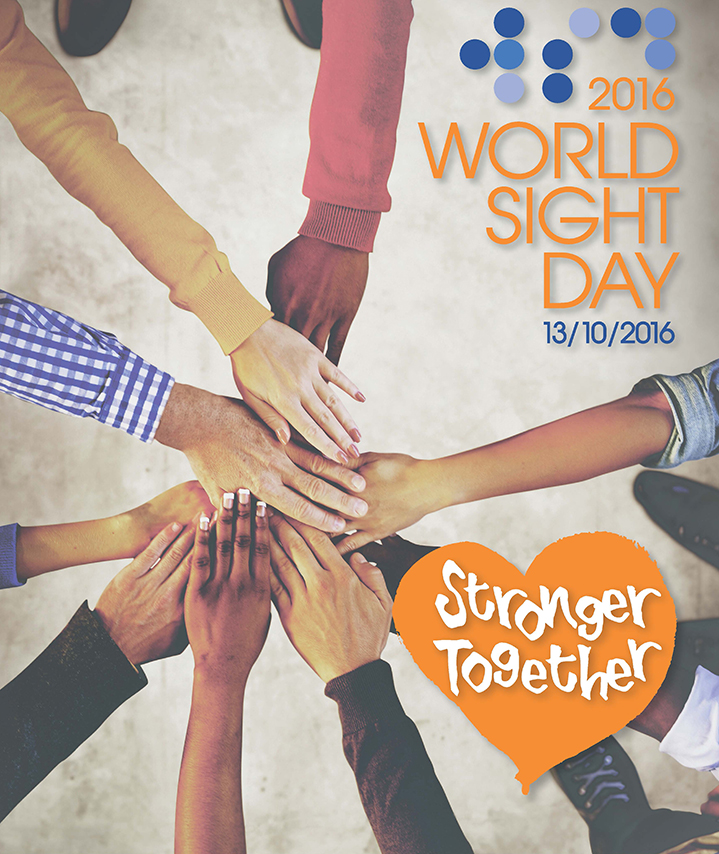 Eye Care Advice for World Sight Day #StrongerTogether
World Sight Day (WSD) is an annual day of awareness to focus global attention on blindness and vision impairment. World Sight Day 2016 is on 13 October 2016 and the theme is Universal Eye Health.
In order to support this important initiative and raise public awareness of blindness and vision impairment as major international public health issues, Specsavers Opticas want to share important information about impaired vision and offer advice on how everyone can take an active role in looking after their eye health.
Visual Impairment Facts
There are approximately 285 million people worldwide who live with impaired vision and blindness. Of these, 39 million people are blind and 246 million have moderate or severe visual impairment, yet 80% of visual impairment is avoidablethrough treatment and protective measures.
According to a report by Specsavers and the Royal National Institute of Blind People (RNIB), there are currently more than two million people in the UK living with sight loss, which is significant enough to impact their daily lives. Nearly half of all cases are preventable. This figure is set to rise to 2.7 million by 2030 due to the UK's ageing demographic.
According to a study by Spain's National Institute of Statistics in 2008, 979,200 people are suffering a visual disability in Spain. This figure is increasing every day, and there are now over 72,000 ONCE members who are classed as legally blind.
The leading causes of avoidable blindness are:
Cataracts
Glaucoma
Age Related Macular Degeneration
Diabetic Retinopathy
All of these conditions and many others can be easily identified with a complete eye test and early diagnosis is crucial to effective treatment and avoiding permanent vision loss. If necessary, the optometrist will refer you directly for further medical examination to an Ophthalmologist or doctor.
How to Protect Your Sight
Get your eyes tested regularly – every year for children, over 70s and people with family history of eye complaints and every two years for those with no issues
Eat a healthy diet – A diet full of the following foods has been shown to help reduce the occurrence of Age-related Macular Degeneration; chicken, saffron, dark green leafy vegetables, peppers, broccoli, pumpkin, yams, squash and sweet potatoes, apricots and citrus fruits, sardines and nuts.
Know the signs – Being aware of the symptoms of these common conditions will help you identify them quickly.
Take action – Don't delay in seeking professional help if you do notice any changes, the quicker any condition is identified the easier it is to treat.
World Sight Day 2016 will be marked in all Specsavers' Opticas stores with eye health information available to take away and experts on hand to answer any questions. They are also offering free eye tests to encourage everyone to get their eyes tested. Visit www.specsavers.es for more advice and information about caring for your eyes and to find your nearest store.