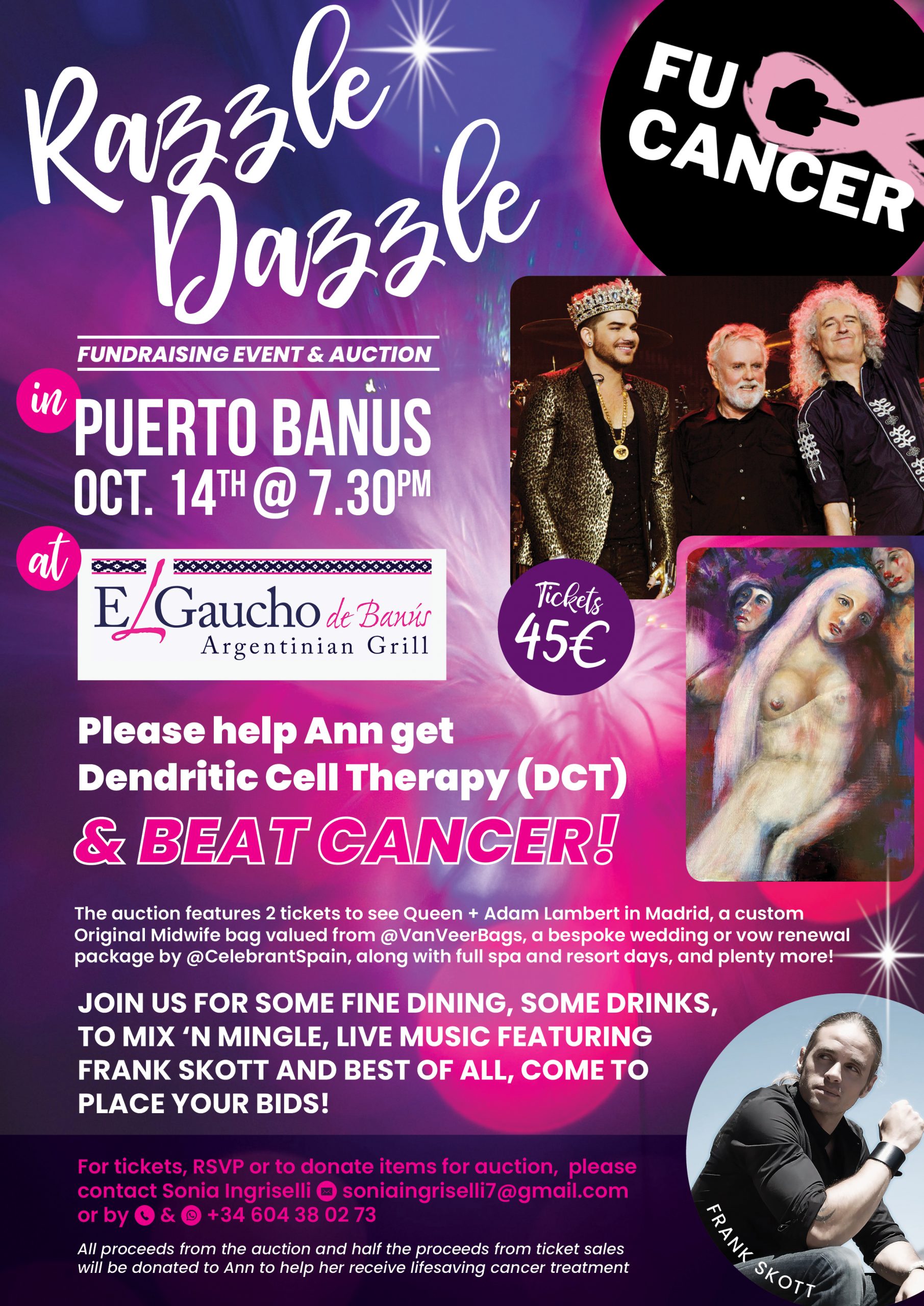 Fundraising Event and Auction for lifesaving treatment to beat cancer
On Thursday 14th of October, a fun and flamboyant fundraising event is being organised in Puerto Banus. The Razzle Dazzle in Pink fundraising event will be held at the Argentinean restaurant El Gaucho de Banus and tickets cost €45 to include a three-course meal with drinks. There will also be live music and a charity auction with some excellent items donated by generous businesses who want to support this worthy cause.
This event is raising funds for Ann Jenkins who is battling aggressive, triple-negatives, stage 4 metastatic breast cancer and Secondary Breast Cancer, which has spread to her lungs and sternum. She has already gone through chemotherapy, a mastectomy and radiation treatment, and there are limited options left for Ann.
However, there is an innovative treatment available in Marbella and Berlin called Immucura Med and Dendritic Cell Therapy (DCT), which is an innovative and highly advanced treatment using immunotherapies and an integrative approach to fight cancer that was previously thought to be incurable. Ann and her husband Christopher are fighting against impossible odds to beat this aggressive cancer and want to do everything possible to give Ann a chance to recover. This potentially life-saving treatment costs 50,000€ and is not covered by their health insurance, so they are asking for help to fund it and give Ann a fighting chance to beat cancer and to push forward this innovative treatment to give other victims and their families hope for the future.
Half of the 45€ ticket price will be donated to Anne's fundraising campaign and 100% if the proceeds of the auction will also be given to this excellent cause. The auction will feature some amazing items, generously donated from local Marbella businesses as well as special items donated from afar, including original art from local artists Steffi Goddard, and Jordanne Morris from Made to Measure Art. Also on offer are two tickets to see Queen + Adam Lambert in Madrid, a custom Original Midwife bag from Van Veer Bags, a bespoke wedding or vow renewal package by Celebrant Spain, spa and resort days, and plenty more!
The organiser Sonia Ingriselli is asking as many people as possible to get involved with this cause, by coming to the event, donating an auction prize, or donating via Ann's GoFundMe page. She explains, "Immunotherapy is the future of cancer care and together we can give Ann a chance. This potentially lifesaving blood cell-therapy may very well be the miracle we all want to see when it comes to cancer. Just a few dollars, pounds, euros or whatever your currency will help.
Cancer has taken away people we love and cherish, cancer doesn't discriminate on race or age, and the harsh reality is we all know someone with cancer and/or someone who has died because of cancer. In retrospect, Ann's fundraiser isn't just about saving her life, it's about the treatment itself, and how it might just change the face of cancer and its future victims forever. We are not only helping Ann get her treatment, but we are also giving cancer patients the hope they so desperately need to fight this disease."
Read Ann's story and donate via her GoFundMe page
Find out more about the event and book your tickets online at www.anns-fundraiser.getonlineforless.com or contact Sonia Ingriselli by email soniaingriselli7@gmail.com or by phone and WhatsApp at 604 38 02 73.