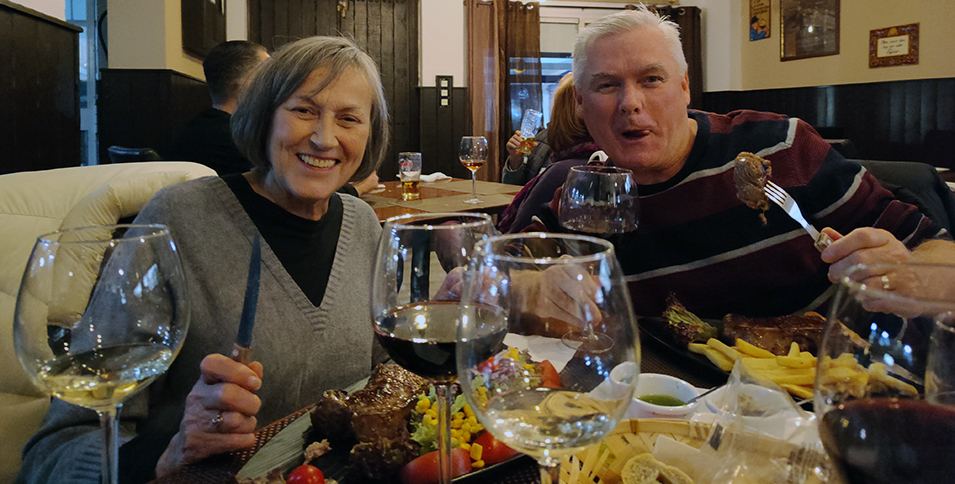 Georgina Recommends – La Casita
La Casita in San Luis de Sabinillas (Manilva, Malaga) is a spectacular Argentinian Steak House, which is known and loved for its amazingly friendly service, delicious food and great atmosphere. The Shaw Marketing team have been going there for around 9 years and are made to feel like family every time we go. It's a very special place – here's why!
The Location
The restaurant is tucked away a line back from the paseo in Sabinillas and in between some shops, a real estate agent and an urbanization. It is opposite the sports centre on one side and the playground just off the promenade on the other, close to Sabinillas' main health centre. Because it is set back from the main roads it's pretty easy to miss, but once you discover it you will be certain to go back from more! Find La Casita on Google Maps.
The Décor/Atmosphere
The inside of the restaurant is warm, classy and intimate and a great place to enjoy a delicious meal even during the winter months.
There's also a large outside area which is covered and protected from the elements and is the most popular place to sit for most of the year.
The atmosphere is electric, particularly from Easter onwards when evenings are warmer and the place is packed. Beware though, this is very, very popular, so you need to book, or expect to wait in line, even very late at night in the summer months.
The Food
The team behind the restaurant are from Argentina and so we go predominantly for their empanadas de carne, juicy steaks, and Malbec wine. We adore the steaks, usually sharing an entrecote and vacio between the three of us. Always cooked "a su punto" and served with chips for us. Lucas always needs a pincho de morcilla as well to start and a chocolate fondant to complete the meal and rolls home very happy.
However, there's lots of choice and even if you're not total carnivores like us you'll find something you like. They have a good range of salads, burgers, fish and pasta dishes, as well as a very good tapas menu, rolls and baguettes.
We've never had anything we don't like there, but we do tend to stick to meat and more meat.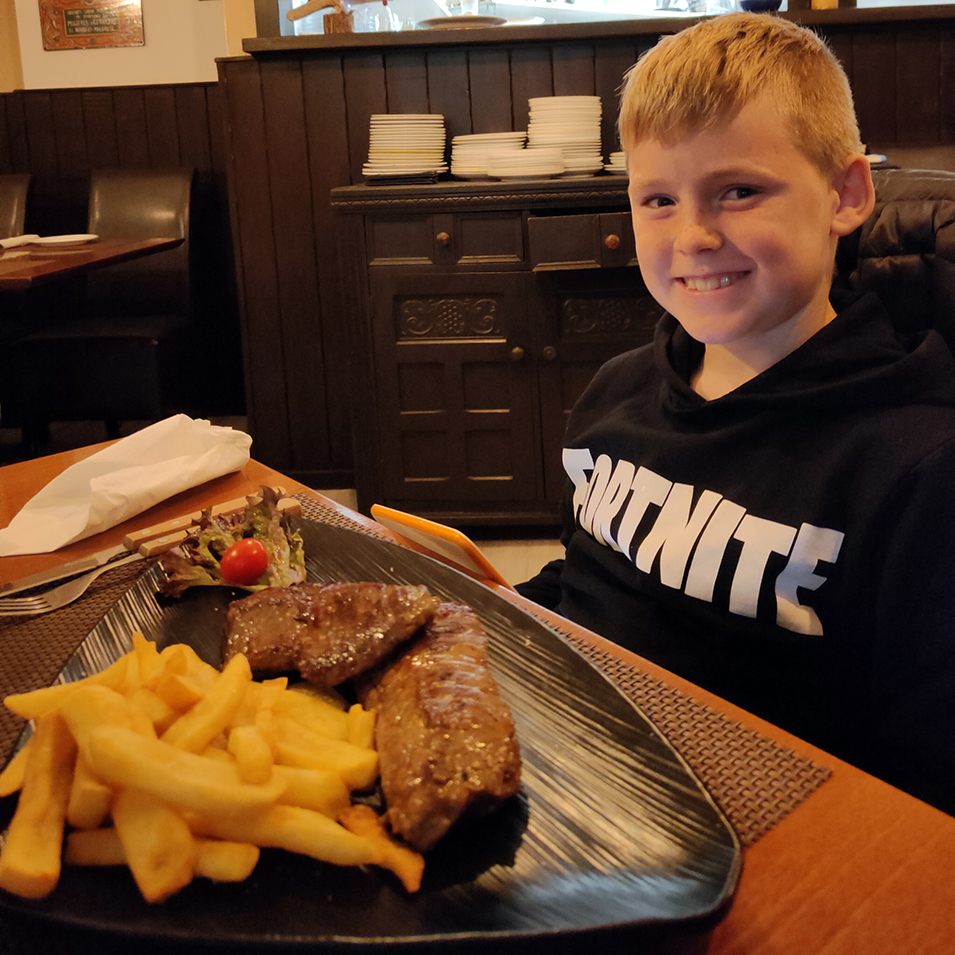 The Service
Although the food is amazing, what really keeps us coming back is the service. The owners make you feel so special and welcome. We have been regulars for a long time and they make you feel like one of the family. They are absolutely amazing with kids as well – Lucas feels like King of the Restaurant when he's there.
Another really nice touch is that you always get free olives and breadsticks at the beginning and homemade vodka caramel cream shots with your bill.
Bear in mind that they do get very, very busy, so during the peak times things can take a while. But they work incredibly hard to make sure every experience is really great and because they care, you really forgive them anything!
Anyone who is thinking of opening a restaurant and wants to learn what good service looks like should visit La Casita!
The Price
The food here is amazing value for money, for really great produce. We tend to enjoy good wine and lots of food, which of course adds up, but you can eat very cheaply here.
We absolutely love the vacio steak which is flank steak. For 14€ you get two massive pieces of steak with loads of chips and a salad. It's plenty to share between two people (if you don't mind sharing) and is amazing value for money and super delicious.
The entrecot (sirloin) is slightly more expensive at 17€ and you get slightly less (Andy will not share his) but it's a wonderful cut of meat for a very, very good price.
Burgers start at 5€ with chips and their Supercompleta is 9€ – ridiculously good value. Pastas are between 9€ and 11€ and salads are 8€-11€.
Overall, delicious food, at excellent prices, with amazing service – La Casita is a winner!
Key details
Address: C. Fernando Pessoa, 2, 29692 San Luis de Sabinillas, Málaga (Google Map Link)
Opening Hours: Mondays closed, Tuesday to Sunday 12-11.30 PM and beyond in the summer.
Important – They close for holidays in November/December time and don't reopen to February/March.
Website: None and their Facebook page hasn't been updated since 2021, but you can find out more on TripAdvisor or read the reviews on Google with the map link above
Call 952 89 21 73 to reserve a table