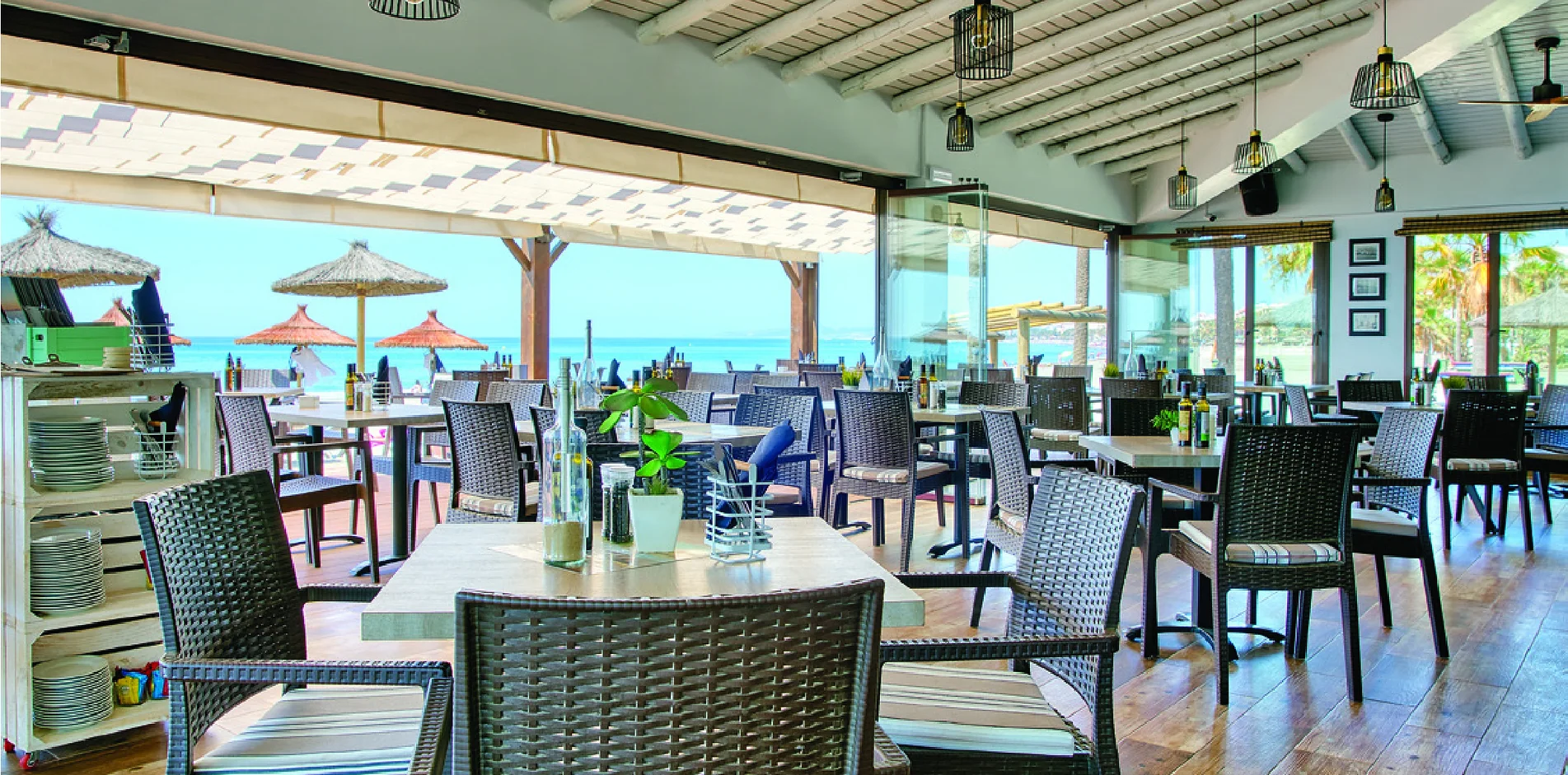 Georgina Recommends – Palm Beach Estepona
Located right on the beach at the Carrefour end of the paseo, Palm Beach is a stunning place, made even better by the fact that there's easy parking nearby – not always the case in Estepona. It's a refined and international chiringuito, with delicious and interesting food. It has a distinctly Dutch and Indonesian flavour, but the varied menu has dishes from all over the world to tickle your taste buds.
Open all year round, with a great team and a fabulous location, this is our go to place for lunch when the sun is shining. Hopefully our review will show you why!
The Location
Come off the motorway at the Palacio de Congresos exit and head to Carrefour and find a parking space in one of two easy car parks alongside Avenida Litoral. You need to take the first exit on the Carrefour roundabout to enter the parking. If there isn't any on the first section, take a right and a right to get into another larger car park. We've never failed to find parking there – even in the absolute peak of summer.
Palm Beach is just across the road from the parking, down on the paseo, so go down the steps to the paseo level and to the wooden bridge and you'll see it there.
It is right on a lovely stretch of beach (Playa de la Rada) and has sun loungers if you want to catch some rays and have a beach day.
The Décor/Atmosphere
Palm Beach had a total rebuild about 5 years ago and is a very smart chiringuito, with nice bathrooms and a cool vibe. It is nice and sheltered, even if it's wild and windy outside, and they make good use of their shades and wind breaks to keep the temperature comfortable all year round.
There's an inside area and a terrace area, as well as a zone for sunbeds in the summer and some picnic tables right on the sand too, so whatever the weather there's sure to be a nice place to sit and enjoy the great food.
The Food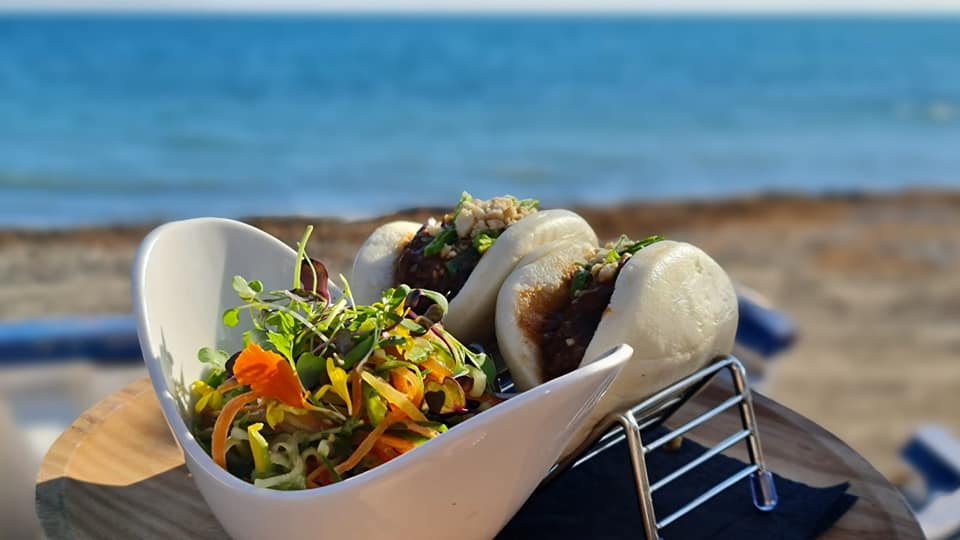 There is a very varied menu, with dishes from all over the world, including an excellent selection of Asian dishes. There's a great sharing plate of Asian small bites which is really yummy to start the meal off, or as a snack with a few beers. The falafel platter is great too for a light and healthy option. They also have a great tuna menu including tuna taco, tuna ceviche and tuna tartare, if you want to push the boat out a little.
For main course Andy always has the Chicken Satay with Nasi Goreng, a delicious dish of grilled chicken skewers with a satay sauce and Indonesian style fried rice. It really is incredible.
Lucas absolutely loves their massive home-made burger, the skirt steak, secreto iberico and the satay and goes between them, depending on his mood.
I always find it hard to choose, as there are so many great dishes on the menu. My favourites include the Caesar salad, the Taco Bowl salad with grilled beef, the Thai curry ramen and the salmon tacos. The food really is top class. We've never had a bad dish there!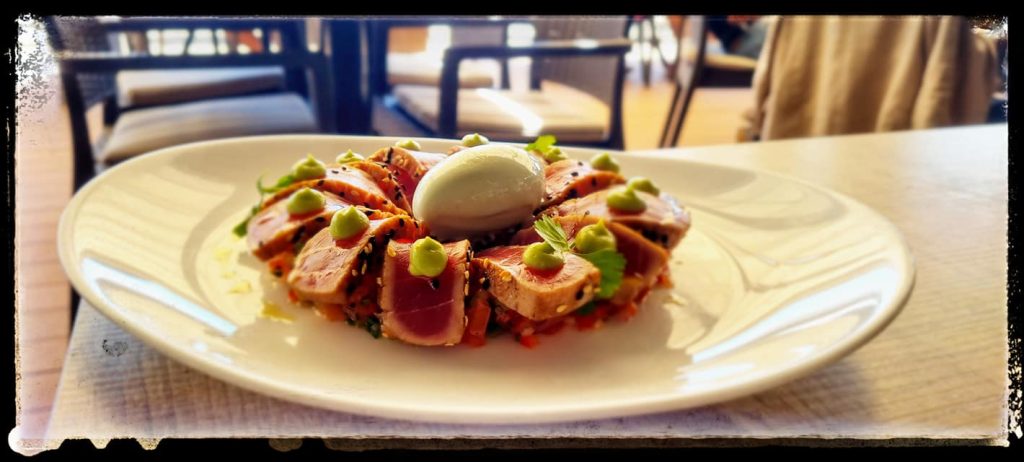 The Service
They have an experienced and well-trained team and the manager and owner Aart keeps a close eye on everyone to make sure it's all going smoothly. Of course when it's rammed it can take a while to get served, but I'd say it's got the best service of all the chiringuitos that we go to on the coast.
The Price
It's a really nice chiringuito with high quality food and a nice ambience, so you might pay a little more than the average, but in my opinion it's good value.
You're looking at paying €16 for a fabulous burger, around 14€ for a massive and very filling salad, 15€ for the ramen and 17€ for Andy's Satay with Nasi Goreng. Wine is 4€ a glass on average, with bottles of the house wine for 18.50€. Cocktails start at 8€.
Fun Fact!
Palm Beach (in its original form) was the location used for the irritatingly infectious Ketchup Song by Las Ketchup
Key details
Address – Avenida España 2, 29680, Estepona
Google Map – https://maps.app.goo.gl/CVNDR3KPTNoJMnGP8
Opening Hours – 11am to 10.30pm Tuesday to Sunday, closed on Monday
Website – https://www.palmbeachestepona.com/
Contact details
Click here to Book a table. I'd definitely recommend making a booking, it's busy all year round
You can also call them on 952 11 35 56 or email palmbeach-estepona@hotmail.com with any questions.
In summary
We often invite friends and family to meet us at Palm Beach as we know the setting and service is first rate and there's something on the menu for everyone. It's a lovely spot for a leisurely lunch and a chance to enjoy the sound of the waves and being on the beach, but in a more refined setting. It is perfectly placed between your basic beach bar and your swanky beach club and for me gives you the best of both worlds. Highly recommended!