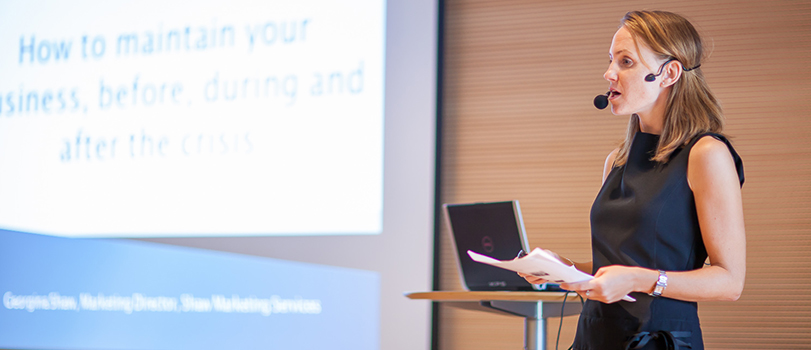 Georgina Shaw Lifestories
Back in September, our Director Georgina Shaw was interviewed by Ian Rutter for his show Lifestories on Talk Radio Europe. They talked about why she ended up in Spain, how Shaw Marketing Services began, how we have dealt with the crisis and what's next for the company.
This hour-long show is a similar format to Desert Island Discs, where guests are asked to choose six pieces of music which matter to them. Georgina's eclectic selection includes You've got a Friend by Carol King, I Like To Move It by Reel 2 Reel and Defying Gravity by Idina Menzel and in between the tracks she talks about her life, family and work.
She offers tips for people looking to start their own business, or who are already working for themselves but need a little boost and talks about how she feels things are really on the up for the economy on the Costa del Sol. It is a fun, inspiring interview which gives you a real insight into our Director and why and how Shaw Marketing Services came to be what it is today.
You can listen to the interview by clicking below
---
Georgina Shaw Biography
Georgina Shaw is a Chartered Institute of Marketing Qualified professional with experience of all areas of marketing and communications. She is an offline marketing specialist, copywriter and event organiser and Director of marketing agency Shaw Marketing Services.
She worked in events organising and PR in London, then was recruited from the UK to come and be the Communications Director of one of Marbella's leading marketing and PR companies, arriving in Marbella September 2007 to start a new life.
After 6 months working in this agency, the crisis hit and she lost her job and had to decide whether to leave Marbella and its faltering economy and return to London, or try and make it work here. She had fallen in love with the Costa del Sol (and met a wonderful man) and really wanted to stay, but wasn't sure the economy had the job opportunities, so with the support of her partner they created Shaw Marketing Services in April 2008.
Since then, they've been representing high profile clients such as Specsavers, the Kempinski Hotel Bahia, Marbella Club and Sotogrande International School, as well as helping many small businesses achieve their goals. A trained teacher and experienced public speaker who has offered marketing advice and guidance for many years, she also offers training courses in Spain and Gibraltar to help businesses promote themselves effectively.