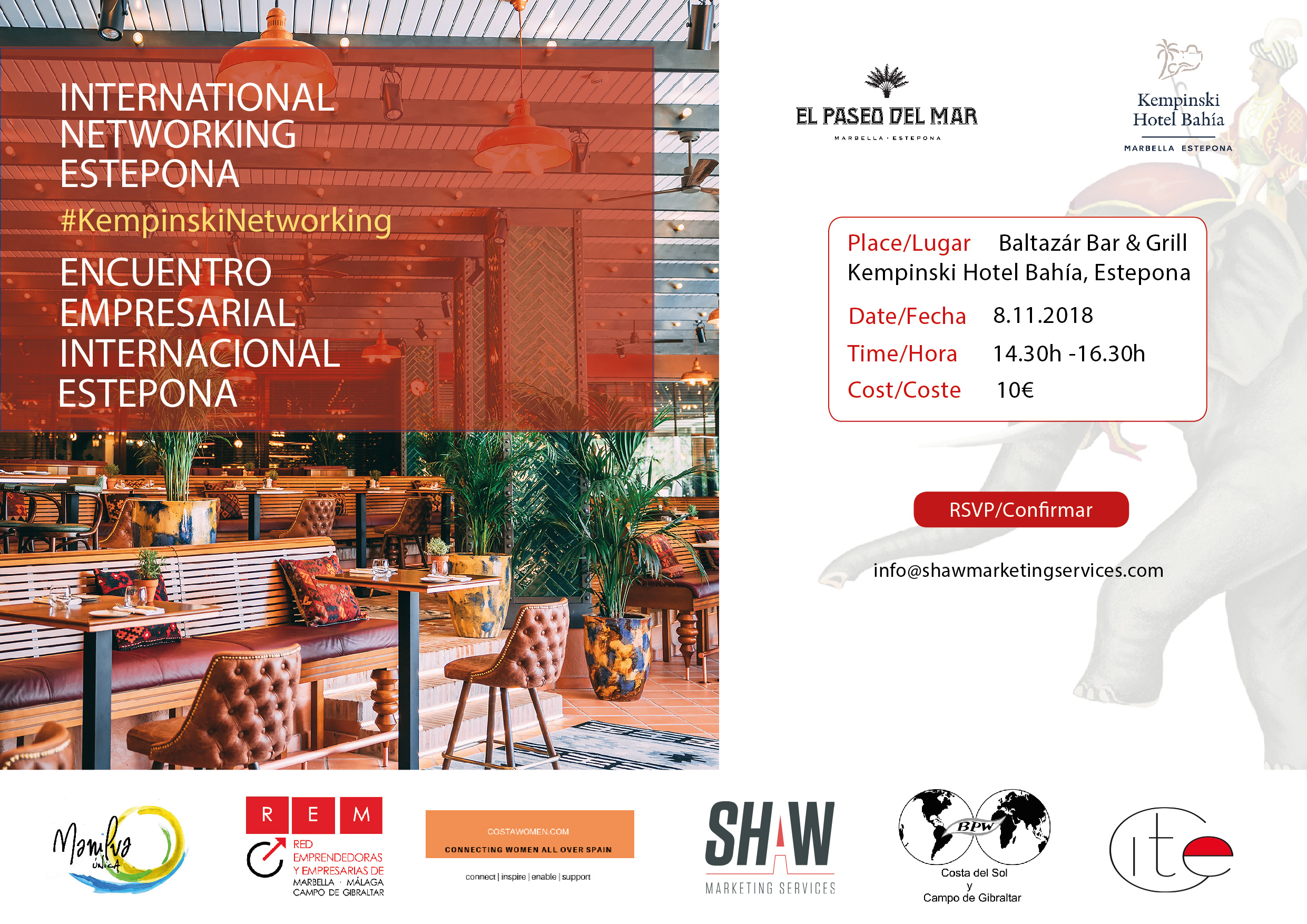 International Networking Groups come together at the Kempinski Hotel Bahía
On the 8th of November at 2.30pm, five well-known networking groups are coming together at the Kempinski's new steakhouse and brasserie Baltazár Bar & Grill for a lunchtime networking session. CITE Estepona, Shaw Marketing Services, Costa Women, Red Emprendedoras Marbella and BNI Global Estepona have all decided to collaborate on this event to allow their members and the local business community to meet, share ideas and grow their business. They are also supported by Manilva Town Hall's Commerce Department, to help build better relationships between businesses in Manilva, Estepona and Marbella.
"The period between September and Christmas is a crucial time for businesses to flourish. We decided to hold a networking event at the beginning of November to motivate, inspire and generate new contacts for this final push towards Christmas", explained Georgina Shaw of Shaw Marketing Services. "It is great to see Spanish and international networking groups joining together for this bilingual networking event. We hope this will continue to break down barriers between the different nationalities in the business community and benefit everyone."
The Kempinski Hotel Bahía is hosting this great event in their beautiful new steak restaurant and brasserie Baltazár Bar & Grill. During the lunch they will be presenting their Christmas Business Menus for 2018 and guests will be able to sample aspects of these menus while they network.
"Our hotel is looking forward to welcoming local businesses for this networking event", commented Sales and Marketing Director Francisco Sa Teixeira. "With our meeting and conference rooms, and our different bar and restaurant options within El Paseo del Mar, we can support businesses with their events, big or small. This year's Christmas menus are better than ever and our recently refurbished restaurants are perfect for holding an annual company Christmas party. We're excited to get their feedback on the new menus and hope to welcome many companies for their staff parties this year."
Bringing together some of the area's best networking organizations, this bilingual event will be the perfect business environment to make new contacts and inspire you for the final push towards Christmas. It costs 10€ per person, which includes relaxed networking, drinks and a chance to try dishes from the new Christmas Party Menus at the Kempinski. Numbers are limited and reservations are essential. Please email info@shawmarketingservices.com to book your place.