Join us for networking in Manilva 19/11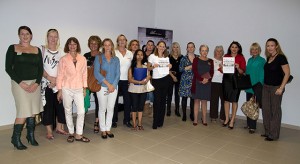 This Wednesday, is our November networking event in Manilva from 18.30-20.00 at the Wine Museum. This is becoming a very popular event in the local community and attendees have already got business from it, as well as making personal and professional contacts in their local area.
It has struck me that Manilva has been out in the cold when it comes to business events and I hope we can grow this event steadily to become a hub for local businesses and form a really strong and supportive community. When this happens, everyone's business benefits and the moral and practical support given is invaluable to small businesses looking to take the next step and grow. Last month, we got to know each other better with a group exercise to find out what we had in common and this month we will be working together to explore objectives for the run up to Christmas and beyond, seeing how we can help each other to achieve them.
I hope you can join us this Wednesday 18.30-20.00 in the Wine Centre- CIVIMA in Manilva Pueblo. There is free parking in the car park behind the Police and Fire Station next door to The Wine Centre. Map
Please RSVP by emailing info@shawmarketingservices.com or clicking join on our Facebook event
This event is being organized by Shaw Marketing Services in association with Costa Women and supported by the Manilva Town Hall. The Resident is our official media partner.