Launch of The Midas Touch Magazine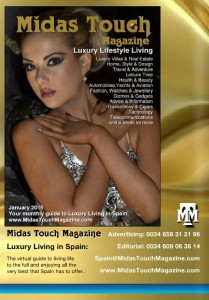 We are always on the look out for more media outlets for our clients and also to enjoy, so I was pleased to see news of the launch of THE MIDAS TOUCH MAGAZINE from founder of This Is Spain, friend of Shaw Marketing Services and amazing networker Steve Hall.
They have created "a window to Luxury Lifestyles in Spain". It offers readers a mix of prestige properties, exotic and classic automobiles, aviation, boats and yachts, watches and jewellery, travel and destinations, investment opportunities, gizmos and gadgets, fashion, kickstarter opportunities, technology and telecom, a little touch of glamour, a good read, while being something a little different not found before in Spain plus more than a touch of luxury.
While their target audience is to High Net Worth Individuals, it's also written to appeal to anyone with an interest of living in, moving to or doing business with Spain. Our inaugural edition in January 2015 had contributions from James May from BBC2's Top Gear, a glance at the London Boat Show, motivational speaker Robert Landau, $40 million properties in Florida, hidden boutique hotels in Majorca, 15 of the finest automobiles for 2015 and even a look at Elvis Presley's two jets; the Lisa Marie and Hound Dog II, that were up for auction.
Please read the magazine online here. There are opportunities to be featured in the magazine at no cost, please contact Steve to find out how to be included – shall@thisisspain.info