Mesto Vstrechi 5th Anniversary Advertising Offers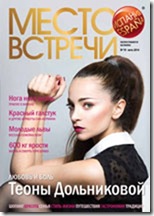 Russian glossy magazine Mesto Vstrechi is celebrating its 5th Anniversary in September (how time flies) and to say thanks to friends, collaborators and advertisers for their support they have some great special offers if you want to expand your market and reach out to Russian consumers with a lot of buying power. These offers apply to the Autumn issue which will be out at the end of September.
Special Offers
Full page: 1.200 euros + iva > 800 euros + iva
Half page: 700 euros + iva > 500 euros + iva
These prices include design and translation to Russian so you don't have to worry if you haven't promoted to Russian speaking public before. 
There's also a great opportunity to get a free banner ad if you commit to 4 insertions.
If you are interested in taking up these special offers please contact Javier Sancho, the editor and sales director for the magazine (and a lovely bloke). His email is info@mestovstrechi.es  and you can find out more about the magazine on their website www.mestovstrechi.es