Mi Marbella on RTV Marbella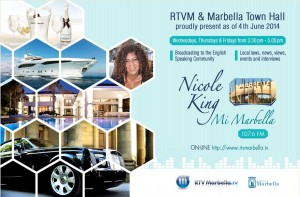 We are looking forward to the launch of the new English language radio programme  "Mi Marbella" which will be starting on RTV Marbella from 4th June with Nicole King.
It's a great idea, as the Town Hall and RTV Marbella will share invaluable information on local laws, legalitites, news and events for residents and tourists of all nationalities. There will be weekly interviews with Jose Luis Hernández, the Tourism councillor and other local officials to help make the foreign residents feel they belong in Marbella, get more involved and make the most of what Marbella has to offer.
Listeners will be able to submit questions regarding anything, including "empadronamiento", voting, driving licences, building permits, where to get an electrician etc., and these will be passed on to the Town Hall to ensure that you get the correct response from the corresponding official.
The show will also interview local businesses and personalities to promote the interaction and collaboration between people of all nationalities. The programme is broadcaasting on the official Marbella Town Hall radio frequency 107,6 fm and worldwide on rtvmabella.tv.
You can find out more on Facebook – www.facebook.com/Mi-Marbella-with-Nicole-King
Listen Wednesdays – Thursdays – Fridays 3.30pm – 5.00pm on 107,6fm or online at – www.rtvmarbella.tv from 4th June.