Red Cross Golden Lottery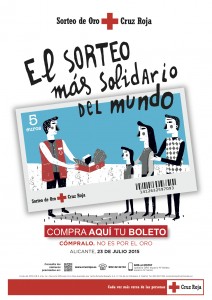 Spain's Cruz Roja (Red Cross) is currently running their annual Golden Lottery, known as the most charitable lottery in the world, and there are some amazing prizes to be won. Tickets cost 5€, with all funds raised going to support the Red Cross' fantastic work for those most in need. The lottery will be drawn on 23rd of July and there are over 6 million Euros in gold to be won. There are three grand prizes of 3 million Euros, 1.5 million Euros and 750,000 Euros, then thousands of smaller winning tickets from 2,500 Euros to 100 Euros – a total of 3,900 chances of winning!
The Red Cross is a humanitarian organization with the principle objectives of providing aid for victims of disasters, those with social issues, health problems and environmental causes and with the funds raised from the Golden Lottery they are able to do more for those who really need their help. Purchasing one ticket will fund one male essential hygiene kit, six tickets will buy three rucksacks with school materials for children, nine will provide the basic alimentation needs of a baby and ten tickets will provide a basic food parcel for a family. Every ticket bought can really make a difference to a person's life.
Specsavers Opticas have announced their support for the campaign and are selling the tickets on behalf of the Red Cross until the 16th July. Tickets can be bought from the Specsavers Marbella store, located on Av. Ricardo Soriano.
To find out more about the lottery and purchase tickets online visit www.cruzroja.es/sorteodeoro