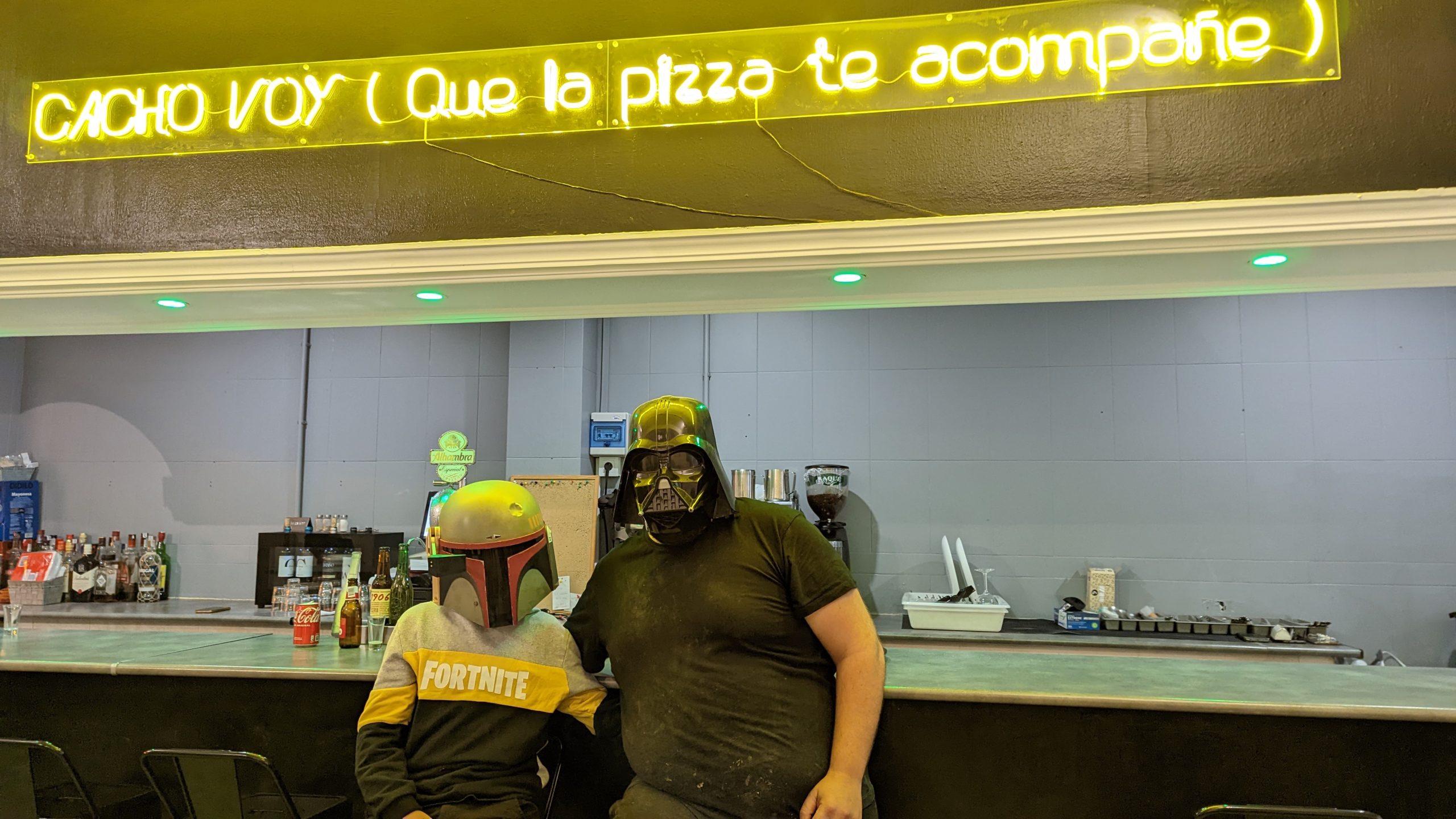 Georgina Recommends: Cacho Voy Pizzeria
Cacho Voy is a fantastic little place tucked away in Manilva Pueblo, which does delicious pizzas, burgers, ribs and more. It's on a square with a playground, so perfect for families, and is one of our absolute favourites. It's amazing value for money and a perfect Spring/Summer place to eat – but it's getting more and more popular, so booking is advised.
The Location
Cacho Voy is located on the corner of a very small street in Manilva Village. You can drive around there, but it's a bit of a maze and parking is limited. However, you can park and then walk down to it, and believe us, it's worth the effort.
Families love the fact that most of the seating is outside on the Pozo del Rey Square (also known as Parque de los Pisos) and there's a large playground, space to kick a football or ride a bike and even a table tennis table. There's also a new sweet shop opened right by it, so kids are absolutely in their element and there are always new friends to be made.
The Décor/Atmosphere
Inside is quite small, with 6-8 tables and a bar area. There's an open kitchen and you can see Juansa kneading the homemade dough, making pizzas and putting them into the pizza oven, which is a real labour of love.
They recently had a refurbishment and the owners' love of Star Wars is clear for all to see. Over the bar it says "May the pizza be with you" and there are even helmets you can try on and figurines and posters to enjoy. The chairs are nice and comfortable now and it's looking pretty smart, but it is still quite a simple space.
There's always lots of life and buzz and it's a fun place to be. However, outside is where the place really comes to life, with loads of tables and chairs all out on the square, families, groups, couples, all eating, drinking and being merry.
It's such a fun atmosphere on a warm summer's evening.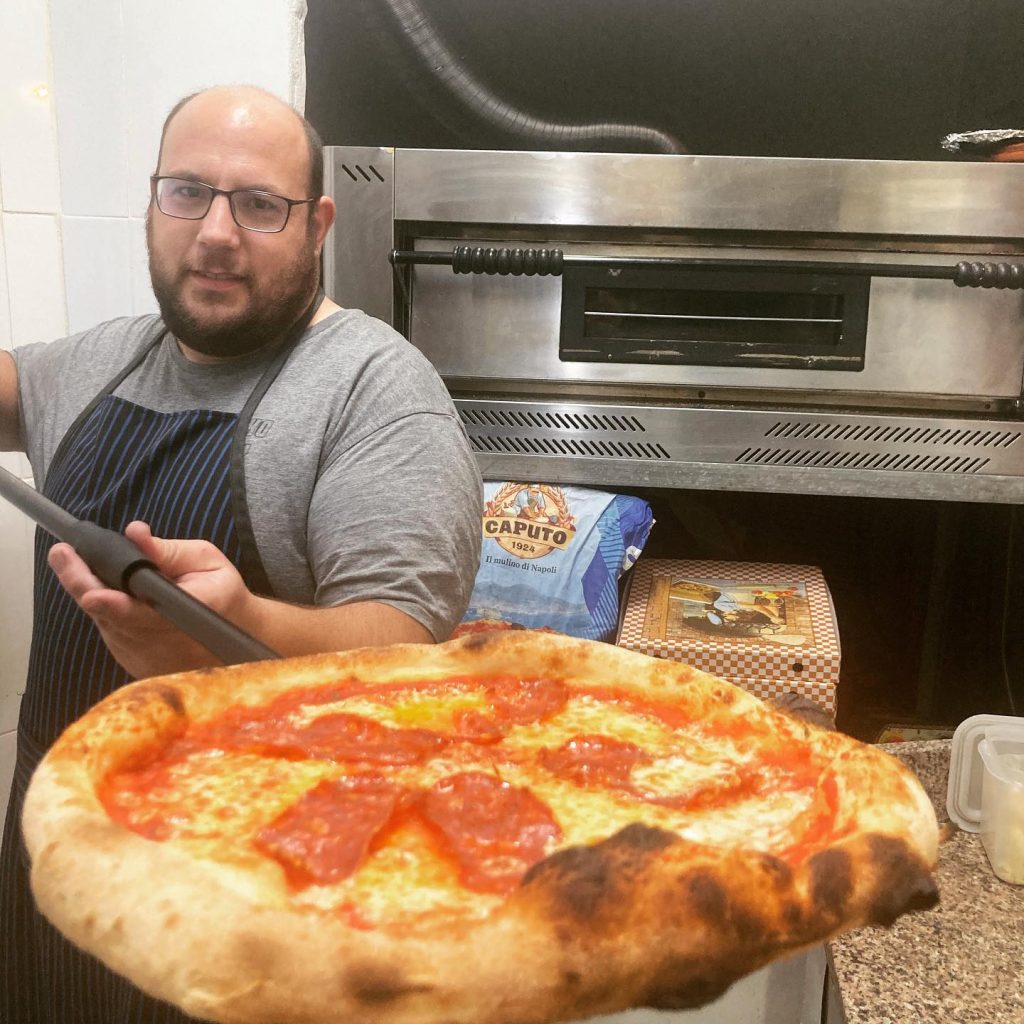 The Food
The food here is absolutely delicious, with some really excellent pizzas. They make the dough themselves and it's 100% artisanal and you can really tell. They use a pizza oven to get the perfect cook and you can either choose from the menu, or select up to 4 ingredients and make your own signature pizza. Our top picks are the Caesar Pizza with chicken, which is a take on the Caesar salad, but in pizza form, the Ribs Pizza (Pizza costillas) and the good old peperoni.
But it's more than just pizzas!
The garlic bread with cheese is to die for.
The fully loaded chips (patatas fritas gratinadas) are a taste sensation, our favourite being with bacon and lots of melted cheese. The pepper chicken one is great too, as is the ribs version – very much a meal in themselves.
The burgers are massive and delicious. Try the Cacho Big Voy if you're starving, or up for a food challenge, and there's even one with a garlic bread bun (Retinta) which is crazy rich, but delicious. However, they are not for the faint hearted and definitely not for anyone on a diet.
The ribs are fantastic, as is the chicken Milanese and empanadas.
This is naughty but nice food. Expect plenty of cheese, salt and fat – in the best possible way.
Check out the menu here they also do takeaway and delivery.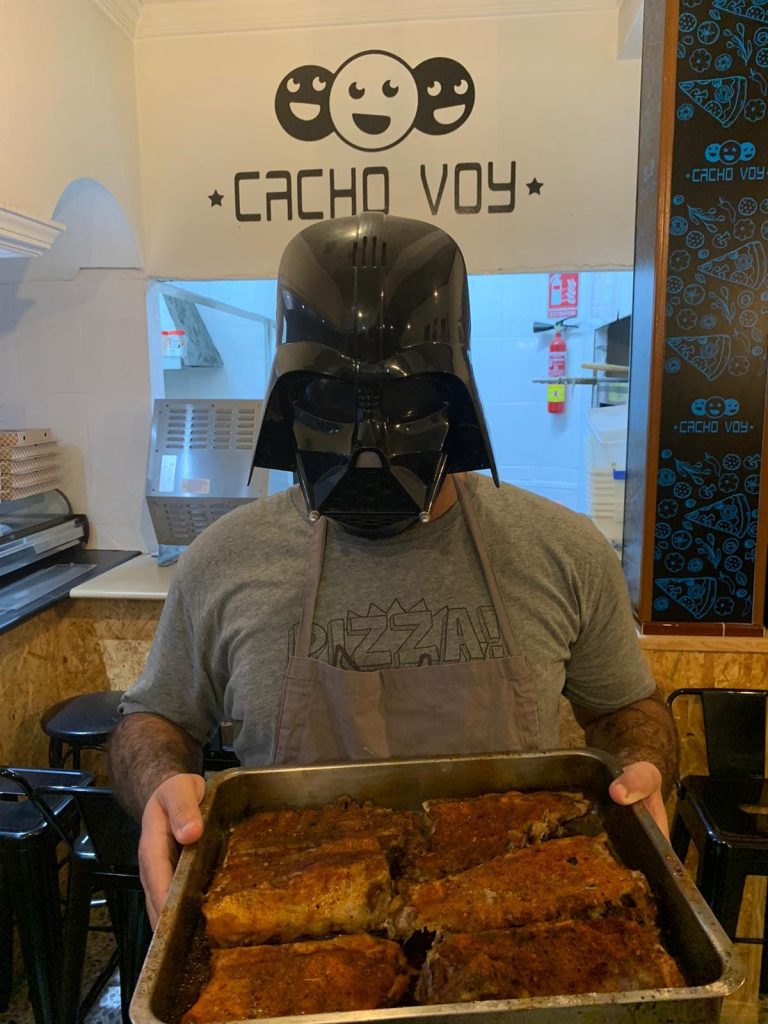 The Service
The team are lovely and really look after you when it's quiet. However, things can go a little wrong when it's really busy, and service can be slow. If it looks like the wheels are falling off, don't be afraid to go inside to order! They are doing their best, but it isn't always the smoothest. However, we forgive some shaky service because they really do care and the food, location and amazing prices keep us coming back for more.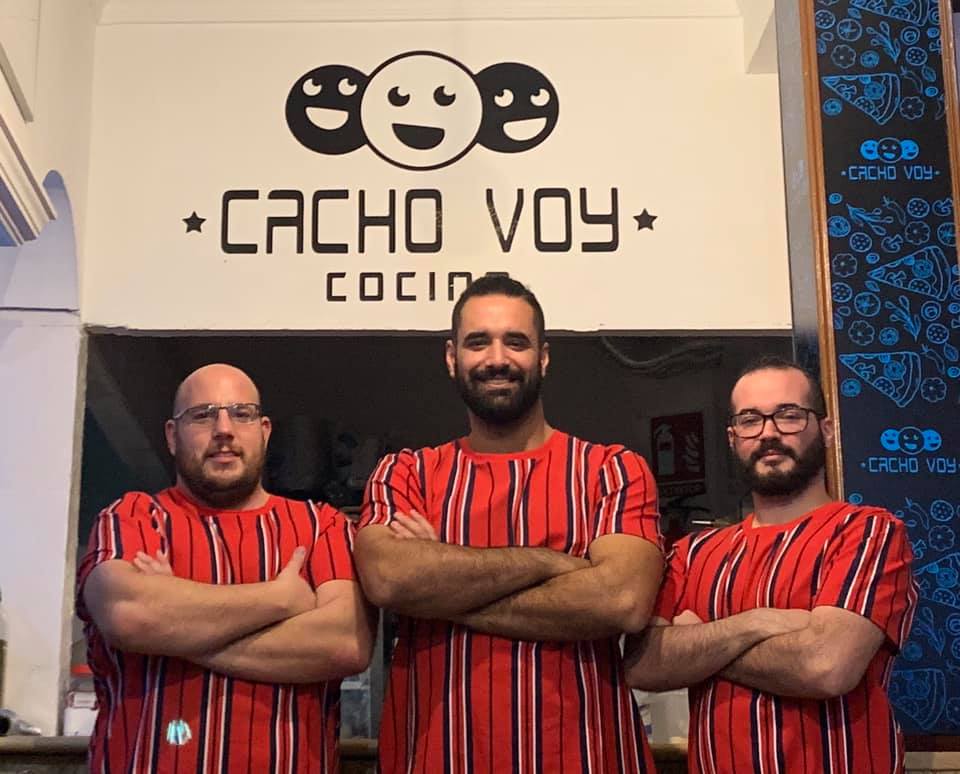 The Price
Cacho Voy is incredibly good value for money. The portions are big and the prices are small – just how we like it!
The pizzas are mostly 8€, for 2-4 ingredients, with the gourmet versions, like the César and the Costillas BBQ at 9.90€. There are some amazing options including a curry pizza, with the base as curry sauce rather than tomato, a prawn pil pil pizza, a 7-cheese pizza (I did say expect lots of cheese) and even a truffle pizza if you're feeling fancy.
Burgers start at 6.50€, up to 10€ for the Big Voy (2 patties, double cheese, double burger sauce and double pickles with some lettuce and onion for good measure).
The fully loaded fries are 7€ and are massive.
You're looking at 1.50€ for soft drinks, 1.20€ for a small beer and 2.80€ for a pint, and 2-2.50€ for a glass of wine.
You'd struggle to find a better value place in our opinion.
We have had so many great nights and birthday parties here and Juansa and the team work very hard to deliver delicious food and a great experience. We love it!!
Key details
Address – C. Candileja, 1, 29691 Manilva, Málaga
Google Map link – https://goo.gl/maps/5CVVZeQ6y7FhfRVa8
Opening Hours – 6.30-11pm Tuesday to Sunday, Monday closed
Menu link – https://qr3478.buenacarta.com/
Social media profiles
Facebook (personal profile only, but the most active) https://www.facebook.com/cachovoy.manilva
Instagram – https://www.instagram.com/cachovoy_manilva
Contact details – You can call or send a WhatsApp to 661 86 10 58