How to make the most of networking events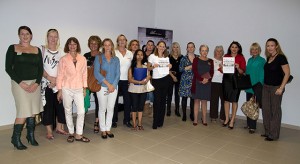 Shaw Marketing Services and Costa Women host Monthly Women's Networking Meetings in Manilva, the 3rd Wednesday of every month 18.30-20.00. Networking is one of the most cost-effective ways to promote your business, so it's a must for any small business!
Future Dates – 18th February, 18th March, 15th April, 20th May, 17th June
Time – 18.30-20.00
Place – CIVIMA (Manilva Wine Museum), Calle Dr. Álvarez Leiva, 4, 29691 Manilva
How much? – 5€ to include networking and refreshments
RSVP – Email info@shawmarketingservices.com
To help you make the most of these events and other fantastic Costa Women events running around Spain here are some top tips from our expert networker Georgina Shaw – 
Don't worry – If you're feeling nervous remember that a networking event is a place where people want to meet you, so it's fine to just walk up and say hi. It may feel weird at first, but that's the point of networking and people are very welcoming and friendly.
Take business cards and flyers – People need something to take away and remember you
Introduce yourself with a clear, concise description of who you are and what you do and a firm handshake – first impressions count!
Listen to what people are telling you and engage them in relevant conversation – Don't just focus on what you want them to hear, being a good listener is key to being a good networker
Make suggestions and introductions which will be helpful to the person you're talking to – It's all about being part of a business community, if you can help others they will remember you, be grateful for your help and probably recommend you to others
Practice your elevator pitch – Make sure you have a 30 second (max 1 minute) introduction on your business which clearly and simply explains what you do and why people would want to buy something from you or use your services. Practice this so you feel confident and you won't have to worry about making introductions or being asked to present your business at a meeting.
Have fun – A great smile and someone enjoying themselves is so attractive and people will be drawn to you, yes it's work, but it's fun too, so enjoy!
Think about collaborations – When you meet people think about possibilities for collaboration which would be mutually beneficial, it's not just about getting direct customers, but tapping into other networks and helping each other to meet new people who could become potential customers
Follow up – Don't just put those business cards into a drawer, log them in a spreadsheet and send follow up emails which reminds people about you and tells them more about the business. Use this opportunity to ask for permission to add them to your mailing list so you can promote to them in the future.
Come to our Manilva Networking Event every third Wednesday of the month and make some great new contacts
Hope to meet you soon, please share any more networking tips with us by commenting on this blog.