Introduction to Marketing – Tuesday 7th October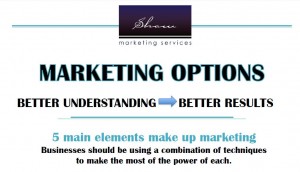 The first in our series of Costa del Sol marketing training sessions is an Introduction to Marketing.
This half day workshop is an excellent introduction to the different forms of marketing, giving examples of each and techniques and tips for making each one work for you.
It is suitable for marketing beginners looking to start to promote an existing business, or those wanting to enter into the marketing profession and also those using marketing agencies who want to have a better understanding in order to manage them better.
We will look at the marketing mix, how to blend different aspects of marketing for an effective campaign. Following a general introduction to the different forms, delegates will undertake a practical workshop to brainstorm ideas and create marketing materials for their own business. For those with existing marketing materials, there will also be a chance to review what's working and receive practical advice on how to improve them and we will share marketing successes and failures to understand the best way to move forward.
For a taster of what we're going to cover and to start learning the basics download our Introduction to Marketing Infographic by filling out your details in the form below.
To register to attend the workshop email info@shawmarketingservices.com or call 952 903 154 by Friday 3rd October
Key Information
Free Download
Please complete the following for access to the Introduction to Marketing Infographic.
Shortly you will receive an email containing a download link. If you do not receive the email please check your SPAM folder first.
[email-download download_id="2″ contact_form_id="3109″]