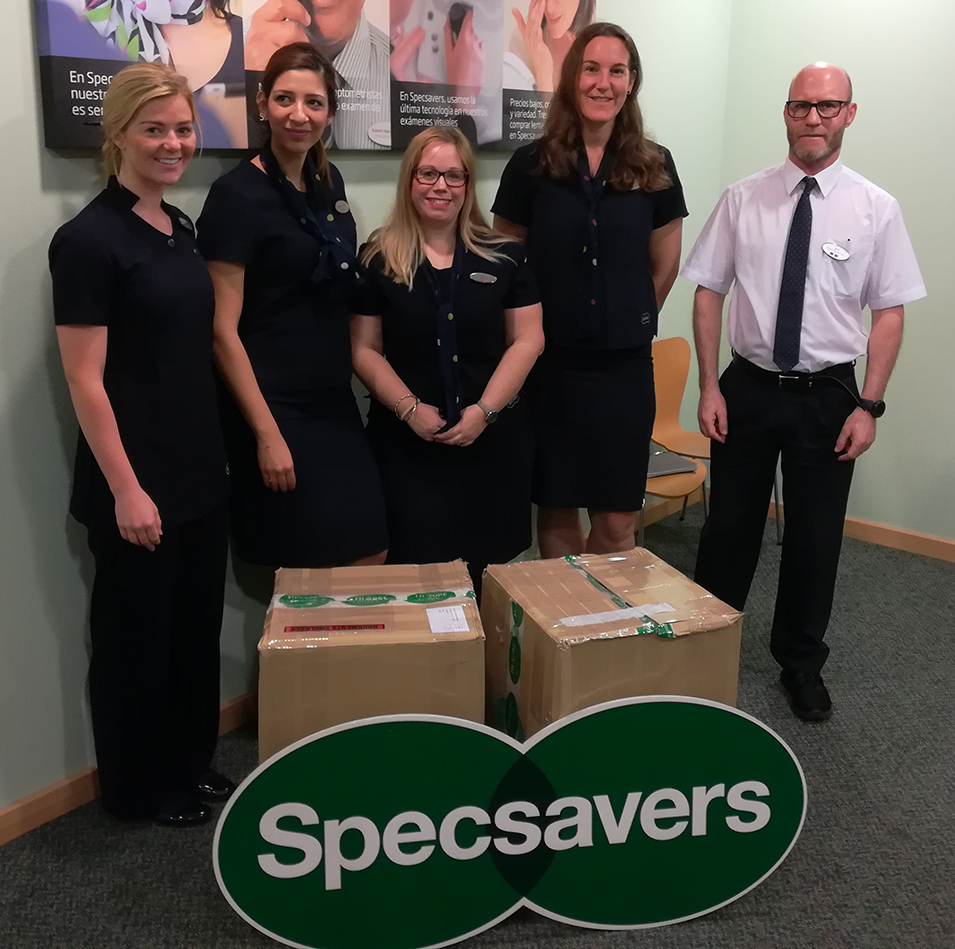 Lions Clubs in Marbella and Mijas receive support from Specsavers Ópticas
The Lions Club and Specsavers Ópticas share the same goal – to end avoidable blindness and improve people's vision, by ensuring everyone has access to glasses. On the Costa del Sol, the stores are working with Lions International in Marbella and the La Cala de Mijas Lions to collect unwanted glasses and distribute those glasses to people who need them in developing countries. This is part of a national activity across all nine Specsavers Ópticas stores in Spain to renew their commitment to support the Lions Clubs in their region.
Specsavers customers donate their old glasses at the store and these are picked up by Lions Club volunteers, then sent to the Melvin Jones glasses recycling centre near Alicante. At the centre, they clean, repair and sort the glasses into the different prescriptions and then send the glasses to where they can be used again. They send around 100,000 pairs of glasses to over 30 countries each year, predominantly in Latin America, Africa and Asia.
"We take it for granted that we can correct our vision with a pair of glasses if our sight is bad" explained Amrik Sappal from Specsavers Ópticas Fuengirola, "but in many parts of the world people don't have that luxury and poor eye sight can make life very difficult for vulnerable people. Having a pair of glasses can really change someone's life, by allowing them to return to work, or to continue their studies. This is why we are delighted to renew our agreement with the La Cala Lions Club to donate unwanted glasses and put them to good use."
The La Cala de Mijas Lions Club collected nearly 1,200 pairs of glasses this month, which were donated by Specsavers customers in Fuengirola. During this collection, the Directors and the charity pledged to work together to ensure more people in developing countries have access to the glasses they so desperately need.
Anita Humphreys, Vice President of La Cala de Mijas Lions Club commented "We in the La Cala de Mijas Lions Club are so grateful to Specsavers Ópticas for their support. It is so important that this wonderful company takes such an interest in those who, through no fault of their own, find themselves less fortunate in this world. Our motto is "We Serve" but with their help, we are able to do so much more. Thank you Specsavers Ópticas."
You can drop your unwanted glasses off at Specsavers Ópticas on Avenida Ricardo Soriano in Marbella, or Avenida Ramon y Cajal in Fuengirola. Find your nearest store by visiting www.specsavers.es