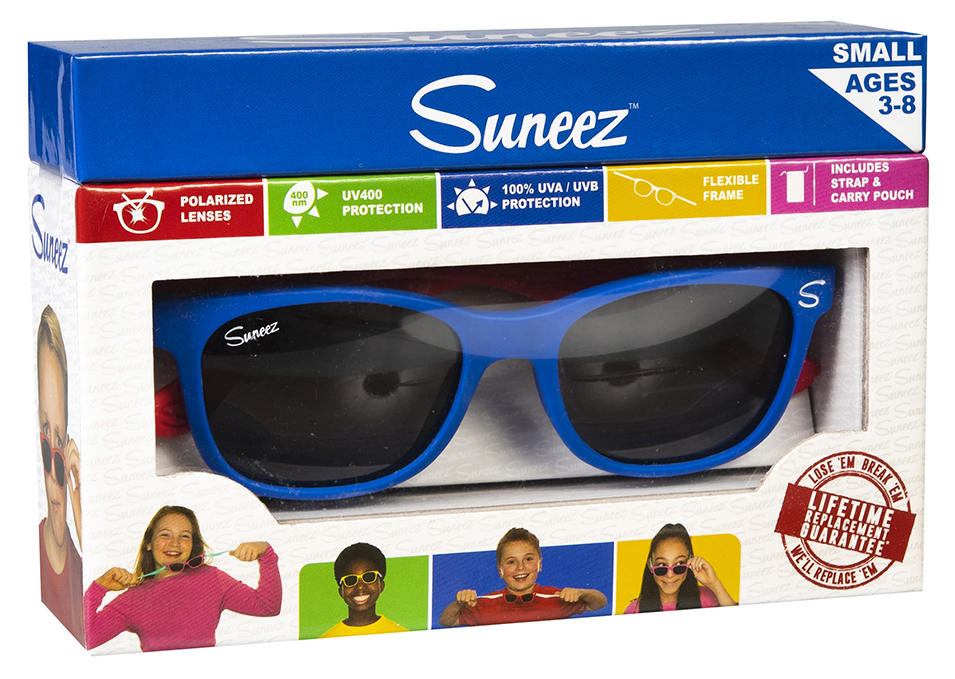 Specsavers launches the Suneez sunglasses range for children
We've certainly been feeling the heat here on the Costa del Sol and have started our annual trips to the beach and the pool. We're obviously loading up on the sunscreen, but have never found good sunglasses for our 10-year-old, which can protect his eyes and stand up to the rigors of his constant pressure testing!
So we were delighted to see Specsavers Ópticas launching the new Suneez range of non-prescription sunglasses for kids and very happy to receive some samples to put to the test.
They are made for children aged 3-12, have polarized lenses, UV400 protection, 100% UVA / UVB protection and a fully flexible frame so they don't break when bent. Priced at €29 with lifetime guarantee, Suneez are a great way to insure that children's eyes are properly protected.
We asked Lucas and his friend Alice to unbox the frames for us and tell us all about them. They were both really impressed and have been loving wearing them ever since and us parents are pleased that there are comfortable and hard-wearing glasses that we know will give them the right protection from the sun. Check out the video
Suneez are available at all nine Specsavers Ópticas stores in Spain, including Marbella and Fuengirola on the Costa del Sol.
Colours available are black, pink and blue. The black ones are classic and cool and the pink and blue versions have different coloured arms, which makes them really fun and different. They come in small and medium sizes, small is for ages 3-8 and medium for 8-12, and have a strap and carry pouch. Head to your nearest store to take a look at the range. Find your nearest store
Why is it important that kids wear sunglasses?
We asked the experts from Specsavers Ópticas to explain.
"The sun's UV rays can cause serious damage to our eyes, including increasing the risk of developing cataracts, age-related macular degeneration, sunburn of the eyes or 'snow blindness', and skin cancer of the eyelids. Children's eyes let in more light than adults, because they have large pupils and clear lenses. Combine this with the fact that, they are likely to spend a lot of time outside, in the pool and at the beach, and there's no surprise that a significant proportion of our eyes' lifetime exposure to UV occurs when we are young.
It's vital our eyes are protected with sunglasses in order to avoid direct UV damage and to maintain good eye health. Children should be wearing sunglasses from the age of three. It's important that their eyes are protected from this age to avoid prolonged exposure to the sun's UV rays.
If children are not protected from an early age, the UV radiation from the sun can cause cell damage, which will put them at a higher risk of complications later down the line.
When purchasing sunglasses, it's crucial that they have adequate UV protection, as some fashion glasses don't offer this. Wearing UV blocking glasses regularly can helps prevent long term damage."
Thanks Specsavers Ópticas for the great glasses, Lucas loves them and we're delighted his eyes are protected!