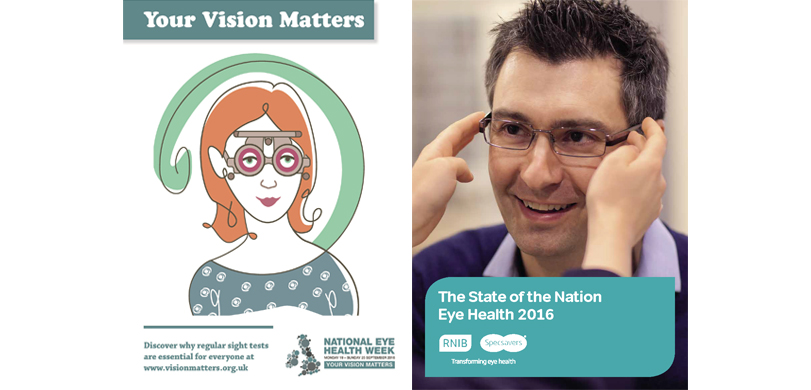 Specsavers and RNIB focus on Eye Health
National Eye Health Week takes place from the 19th to the 25th of September in the UK. This is a campaign to encourage everyone to take better care of their eyes and have regular sight tests. Specsavers Opticas in Spain are taking this opportunity to announce their partnership with the Royal National Institute of Blind People (RNIB) to support its vital work, help educate people about eye health and to raise awareness of how regular eye tests can help reduce preventable sight loss.
Specsavers and RNIB recently conducted an important study of the state of the UK's eyes which revealed that more than six million people in the UK live with sight-threatening conditions or uncorrected refractive error. Some may not yet be experiencing any symptoms and may have no idea that anything is wrong. Of these, more than two million people (3.08% of the UK population) are living with sight loss that has a significant impact on their daily lives. This figure is set to increase to more than 2.7 million by 2030, driven by an increase in the UK's ageing demographic. Although nearly half of all cases of sight loss in the UK could have been prevented, 14 million people in Britain[i] are not having an eye test as recommended at least every two years.
According to a study by Spain's National Institute of Statistics in 2008, in Spain 979,200 people are suffering a visual disability, 2.14% of the population. Of these 20,900 are people classed with low vision, and there are 58,3000 cases of blindness. This figure is increasing every day, with 3,000 new members joining the blind charity ONCE each year and as of June 2016 there are 72,091 ONCE members who are classed as legally blind.
It is not simply the cost to the way of life of these people that is important to note. Independent research commissioned by RNIB estimates that the total cost of sight loss to the UK economy is in the region of £28 billion a year. In Spain, it was calculated to be 358 million Euros in 2008 and increasing. This shows how vital it is to get the message out there that you need to take care of your eyes, and make sure everyone has sight tests every two years from the age of three. RNIB Group Vice Chair Eleanor Southwood says: "Stopping people losing their sight unnecessarily is a goal we share with Specsavers.  We are absolutely committed to working together to improve the eye health of the nation."
Specsavers Opticas are currently offering free comprehensive eye tests which include health checks and during the month of September they have an eye health information point in store, with useful information about caring for your eyes available to take away.
To find your nearest store and book a free eye test, visit www.specsavers.es to find out more about National Eye Health Week and get more eye health advice visit www.visionmatters.org.uk. To find out about RNIB visit www.rnib.org.uk and for information about ONCE visit www.once.es.
[i] RNIB calculation based on Office for National Statistics (ONS) (2015). Annual Mid-year Population Estimates: 2014. ONS. Calculation: UK population 18 and over = 51,339,161 x 0.27 = 13.8 million
*All figures, unless otherwise stated, are from YouGov Plc.  Total sample size was 10,000 adults. Fieldwork was undertaken in July 2016.  The survey was carried out online. The figures have been weighted and are representative of all UK adults (aged 18+).