Specsavers Saves Lives with Digital Retinal Photography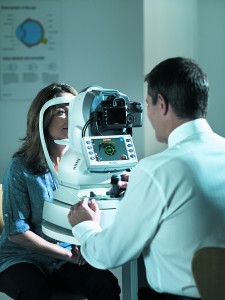 Digital Retinal Photography is becoming an increasingly valued part of the eye examinations carried out by optometrists. Far more than just testing your sight, optometrists can in fact make a comprehensive health assessment by using retinal photography alongside more conventional procedures and it is saving lives around the world.
This sophisticated process uses a camera to take a picture of the back of the eye to detect and manage problems such as diabetic changes, hypertensive retinopathy, macular degeneration, optic nerve disease and retinal holes. In addition digital retinal photography can also highlight a range of other conditions, including diabetes, high blood pressure, high cholesterol, risk of a stroke and symptoms associated with brain tumours.
Specsavers Opticas is committed to offering a top quality eye test including a professional visual health check and to make it even more comprehensive they are rolling out the digital retinal photography technology across all their stores. Unusually the use of this potentially life-saving machine will be included as part of every eye test without additional cost.
Leighton Griffiths from Specsavers in Marbella explains why it is so important; "It is our responsibility as optometrists to use our skills, training and the latest equipment to not only fit our clients for glasses, but ensure their eyes are healthy.  Digital Retinal Photography is an important step forward in identifying and treating causes of avoidable blindness and diagnosing potentially life-threatening conditions so we think it's vital to a modern eye test."
There are two Specsavers Opticas on the Costa del Sol, in Marbella and Fuengirola. To find your nearest store and book your free eye test with digital retinal photography visit www.specsavers.es.