Marketing Focus – Costa Del Sol Blogging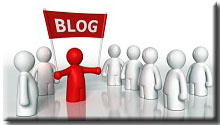 What is a Blog?
The word blog is an abbreviation of web log, originally created as an extension to the online diary or journal. They allowed individuals "talk" to the world about their life or pet subjects, from their upcoming wedding, cooking or their favourite football team.
They started in the early 1990s as a great way to jot down your thoughts and experiences and upload them online and online diary communities started springing up. 
The advent of easy to use platforms such as Blogger.com in 1999 really opened this concept up to those people with limited technical skills and the craze of the blog has been building ever since. In the last five or six years, businesses have been seeing the value of having a blog and hundreds of thousands of company blogs have been born.
Why should you have one?
Blogs are now an important online marketing tool for businesses. They act as an excellent addition or alternative to a traditional company website, which are free and quick to set up, easy to use and rank very well in the search engines. 
Once you have a blog, you can quickly inform the world about company news, industry news and events going on in the local area. You can position yourself as an expert in your field and if they are well-written and informative they can be a great way of driving more traffic to your main company website.
Are there any drawbacks?
The main one would be that it's time consuming and requires commitment and a good writing style. You need to blog once or twice a week as a minimum and be creating interesting well-written content, which can be hard to fit into a busy working life.
It also takes time and effort to make your blog stand out from the crowd and attract a lot of traffic. However, if you are mainly using it to generate traffic to your website, this can start happening pretty quickly if you are in a relatively uncompetitive online environment.
What can go wrong?
Many companies struggle because their blog is too corporate and appears just another form of advertising, which is a real turn-off. Others limit their blog content to simply company news, which doesn't interest the normal web user. Some companies have even been caught out blogging as a happy customer and pretending it isn't coming from the company itself which is an absolute no, no.
How to do it right?
To get the most out of your company blog you need to be blogging regularly (once or twice a week as a minimum), including interesting and useful information on your local area or business area and sharing stories in a friendly and honest way. 
A blog is a great way to interact with your readers, get company feedback from polls and generally grow your brand identity online and if you have the commitment to doing it regularly it is a great addition to your marketing mix.
Blog writing support
Shaw Marketing Services offers a Blog writing service for busy companies who don't have time to commit to blogging regularly.
Currently we are writing the following blogs for clients:
Spain Property Management Blog
Plus of course our own Costa del Sol Blog!
Click here to download your fantastic guide to blogging from Specialist Marketing Recruitment Company StopGap. It offers a great overview about what a blog is and how you can make the most of it.
If you would like to find out more information about our Costa del Sol Blog writing service please email info@shawmarketingservices.com