Marketing Focus: Why QR Codes are good for your business
QR codes have been around for a decade in Europe and the US and for even longer in Japan, but there has been a resurgence in businesses using them due to COVID and the integration of QR Code readers into smart phones. It's something many small businesses don't use and probably don't understand the full potential, so we wanted to give you an overview of what they are and how you can use them.
What are QR Codes?
QR stands for "Quick Response" and you'll see the black and white squares featured on marketing materials and more than ever now outside restaurants to give you access to menus in the wake of COVID-19. QR Codes are two-dimensional barcodes that can be read by a smartphone's camera via a QR-code scanning application in order to access a range of information or be instantly directed to a web link. It is free to use and open for everyone and now that almost all potential customers use smart phone technology, it's an excellent tool for businesses to direct content to their clients and track responses to marketing campaigns.
How do you make a QR Code?
Use one of the free QR Code generators which are easy to find by searching. Simply add the URL you want to link to into the generator and decide if you want to modify the colour or add your logo and then hit create QR code. This can then be downloaded as a PNG and inserted into any of your marketing materials. Here's an example of one you can use to link straight to our library of marketing articles on our blog.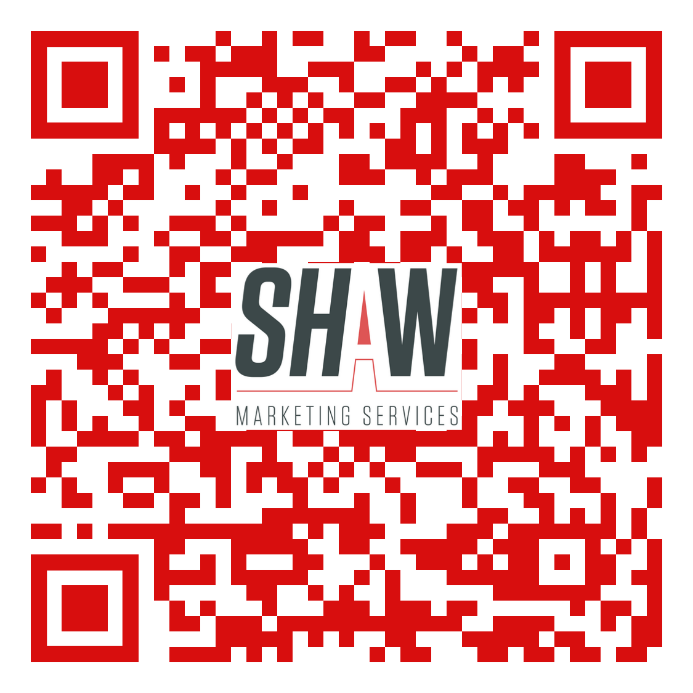 Top tip – Make sure you thoroughly test your codes with multiple readers and devices before placing them onto any materials, and ensure that it links through to a mobile-optimised webpage, with a good user experience.
Create a strategy and plan
Like all marketing efforts, QR codes should be used within a clear strategy to maximise effectiveness. You should understand your target audience and how they will feel about using QR codes and what support they will need to engage with them. Then set clear objectives for what you are trying to achieve, to ensure that the outcome is what you need e.g. do you want more people to download your e-book, like your Facebook page, increase your database, or encourage repeat purchase and loyalty? Focus on one key objective at a time, and be consistent, to give yourself the best chance of success. Make sure the incentive you're offering is attractive enough, or the information is useful enough to motivate customers to scan and make it clear why they should scan. Is there a competition or special offer, or will they get exclusive event invitations or product tips or tricks. Don't just stick a QR code on and hope for the best!
How can businesses use QR codes effectively?
Restaurants have been pushed to abandon their menus due to COVID-19 and QR codes have been widely adopted as an alternative. You can print tent cards for the tables, posters for doors and walls, or even have stickers made for the tables with the QR Code. This makes it really easy for the customer to see the menu on their own device, as well as see special offers, deals or loyalty rewards. Unlike printed materials, you can change what you have online easily and cheaply, so you can experiment with what works best for you.
We expect that restaurants using these codes will increase the confidence of customers using them elsewhere and boost their effectiveness in other areas of business. You can incorporate QR codes into your business cards, leaflets, ads, posters and outside advertising, packaging, receipts and even on branded materials and vehicles. When space is limited, or customers can't take something away with them, they are particularly valuable. For example, if you have a billboard and you can't incorporate as much as information as you'd like, use a QR code with a clear call to action and track what the response is. If you have a product, especially with limited space on the packaging, you can incorporate a QR code to offer product information, deliver product videos to show how to use it and generally engage with purchasers.
Here are some ideas of what you could do with them –
Link to a landing page – This is the most basic, but also a very effective way to use QR codes, as your customer doesn't have to input a long, complicated link, or search around your website for the information they want. This landing page can have videos, downloads and data capture forms embedded to maximise their efficiency and can be changed regularly to test effectiveness of your call to action. They can also link to relevant articles and information that you want more people to see. Don't just send them to the homepage, think carefully where they should go, depending on where the QR code is placed, to ensure the user has a good experience and your conversion is high.
Encourage people to download – If you have an app that you want customers to download, an e-book, or a special offer coupon, your QR code could link to this and take customers straight there easily and quickly
Offer product or service support – After sales support, or product information to help your customers understand how to properly use your product is crucial to improving customer experience. If you have a QR code on the product, you can link to a video showing people how to use it, an instruction manual, or answer frequently asked questions to pre-empt enquires.
Promote a special offer – Increase uptake for a special offer by using a QR code on your marketing, which links right to the offer page. This is a page which you can update with different offers over the year, particularly useful for large print runs or long standing advertising campaigns, as the code remains the same, but the page can be updated as many times as you like.
Drive people to your social media channels – Use a QR code to get more people to follow your channels and interact with you online, it's easy for them to find you and give you a like if they've enjoyed your product, service, or customer experience.
Help people to find you or contact you – QR codes can link through to maps to show your exact location, call or email you, so they don't have to search around for contact details, or note down numbers or email addresses.
Encourage feedback and reviews – TripAdvisor and Google reviews are really important to give new customers the confidence to visit your restaurant or use your service. Facebook reviews are also a great way to give you an advantage on social media. However, customers tend to forget, unless they've had a bad experience. If you use a QR code on the bill to encourage positive reviews, with a special offer, such as a free coffee if you leave a review, or money off their next bill, then it is an easy way to boost your numbers of positive reviews.
Analysing the effectiveness of QR codes
Once you start using QR codes, make sure you check the analytics to see what is working the best and test and review to improve the success of these marketing tools. Speak to users about their experiences and ask customers how they feel about using them and what they'd like to see, to ensure you understand your target market and can tailor your offer to fit your ideal customer's needs.
Contact us to brainstorm how you can use QR codes and other marketing tools as part of your strategy, or to maximise your marketing and customer outreach in the "new normal". We're here to help you use intelligent marketing to improve results.