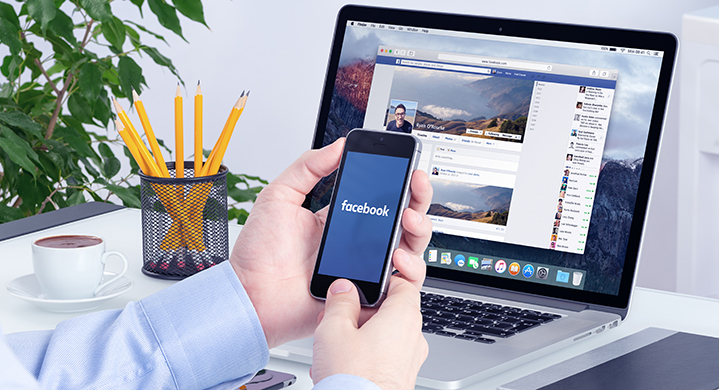 Why your company should have a business page on Facebook
Globally there are more than 2.9 billion active Facebook users (October 2022) and in Spain 73% of people online use Facebook. It is the biggest social media channel in the world and is popular with people of all ages, particularly with users aged from 18-54. People use Facebook to search for information and interact with companies online and it's a very powerful tool.
We'd recommend that all businesses have a company page on Facebook and create consistent and high-quality posts which are inline with your marketing objectives.
In this article, we'll be sharing information and advice about Facebook to help you make the most of its marketing muscle. 
What is the difference between a personal profile and a business page?

 
Using Facebook as a business and an individual are two very different things, but sadly many small businesses don't see the distinction and promote their business online as if they were an individual.
It's true that a personal profile has more options than a business page, however by cleverly using your own personal profile alongside your business page, you will give the best impression of your business and get some affordable online marketing.
Here are a few things to bear in mind when you're thinking about how you are going to present your business on Facebook –
Facebook's rule state that businesses must have a business page and not a personal account and they are clamping down on this, so the personal profile you're using as your company could be taken down without warning, losing all your contacts and this powerful promotional platform
The best option is to create a business page where you can publish all your business information, events and news, alongside non-commercial and useful information that your potential clients will like. You can then share these updates or events on your personal profile, or invite people to your events as an individual, but it will all feed back to your company page.
Keep your company page and personal profile separate if you don't want customers to see what you get up to at the weekend. You need to have a personal profile to set up a business page, but you don't need to use it if you don't want to, the only time it gets connected is if you share the business information, or you comment as you on your posts.
Facebook is growing in power as a form of searching for companies, products and information and if you have a well set-up and interesting business page you'll give yourself the best promotion potential. If someone has to send you a friend request to see your business information it's slow and you do not look professional as a business.
A business page on Facebook is now a marketing tool no company should do without! 
What content should I create?
Create content which your target market will relate to and be interested in and ensure there is a good mix of content to keep your page active and engaging. 
Don't just sell – Facebook users don't like it! You need to inspire, educate, motivate and build trust.
Tips and advice is always well received, linking to relevant articles, or sharing information about local events for example is also a great idea. People also love videos and content which adds value and helps them personally or supports their business. So work to create content that your customers and potential customers can connect with. If you're not sure what that is, why not ask a selection of your loyal customers and find out what they'd like, or even start a Q&A feature where you can answer questions submitted by your customers and fans. It's great to show you're listening and responding. 
Although you need a business page, don't be afraid to be personal, tell your story and share your experiences. People want to connect with you and love to see pictures and videos of you. If they feel they are getting to know you, they will feel more comfortable contacting you and hopefully becoming a customer. If you can create three posts per week or more, that is ideal.
How to be consistent?
Posting regularly is vital to ongoing success on Facebook, but it can be hard to maintain when you're busy. You need to plan and prepare content ahead of time to ensure you stay ahead. If you can create a posting plan, with the topics you want to write about and how frequently you'll post about that topic, it will give you a framework to work to and give you inspiration when you're struggling for ideas. 
We advise that you write blocks of content in advance and use a scheduling tool, so when you are busy your content will be posted without you needing to do anything.
When you have a free hour or two, try and create as many posts as you can in a Word document. Check the spelling, make sure it is in line with your company image and use either the Facebook scheduling tool or another program such as Publer to set the date and time that you want the post to go out. This will help you to take control of your page. You can always add more posts into the mix if you want, but it will give you a base.
With the scheduling tool you can experiment with what times of the day your followers are most active and Facebook will start to make recommendations for you as your page grows.
How to get people to see your page?
Once you have a page and you're posting regularly, start to attract attention to the page and grow your base of followers. Here are some easy ways to do this:
Invite your friends to like the page – focus on friends in your local area, fellow professionals or people who represent your ideal customer profile. You are better to have less people, but the right fit for your page. Ask friends to like and interact with your posts, as this increases their reach.
Join Facebook groups for your area and share relevant and interesting posts onto the page and offer help and advice to the members. This is online networking, so the more established you can be in the group the better received your messages will be.
Go and follow pages of associations, organisations and companies in your area that you would like to interact with. It is important to like their page as your page – not as yourself. If you like and comment on some of their posts, most people will do the same back. This can be a great way to establish a new connection, as well as gain more followers, as you can message them via Facebook to introduce yourself and suggest a collaboration.
Consider Facebook advertising to get more likes, or to boost a particular post. Spending 25-50€ per month is a good way to grow your page, particularly at the early stages and acquire a base of followers to market to.
If you are holding an event, create it on Facebook so you can invite people to come along. Share the event onto What's On.. groups and the community groups you are a member of to increase awareness and invite your friends and collaborators to come along and support you.
Further reading
We hope this introduction to Facebook has given you a better understanding of why this is important and how you can maximise the tool for your business. Here are some useful articles which go into more depth of some of the aspects we have mentioned.
How to set up a business page on Facebook
What is the difference between a personal profile and a business page
How to like other pages as your page
How to interact with other pages as your page
How to create a Facebook event
Shaw Marketing Services can create and manage your Facebook page for you. This takes this time consuming task off your hands and ensures you have high quality and consistent content which gives the best possible impression of your company. Contact us today to find out more about our online marketing services and how we can help you reach more potential clients on social media.