Marketing Focus – New Year, new opportunities for success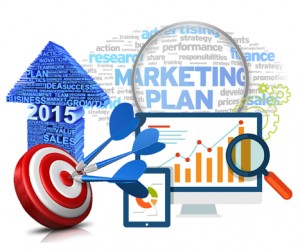 Take advantage of the start of the New Year to give yourself a marketing shake down and refresh. This is the chance to reflect, review, plan and act for success! After my successful New Year Marketing Masterclass, I wanted to share a few tips on how to make 2015 a brilliant year for your business.
Step 1 – Evaluate, review & reflect – Look back on last year and properly evaluate your business' performance, not simply on face value or just on your bank balance, but also in terms of hours spent on each project, difficulties you encountered on any given revenue stream and also the projects that gave you most fulfilment. It's the right time to reflect if you would be happy to have another year like 2014 or not. If you would, then think how to sustain this positive curve, if not then what should you change for a better result.
Step 2 – Plan for Success – Having an in depth marketing plan will help you to clarify your objectives, understand your company, customers and competition and create an action plan for marketing your business with deadlines and people who will be held accountable for the actions. Take the time to make a proper plan if you want to promote your company effectively, it is an invaluable business tool.
Step 3 – Work smart – Make the most of your resources and concentrate your efforts on tasks that generate the most income and give you the most satisfaction.
Step 4 – Be up to date with the trends – There are a number of interesting trends to watch and keep up with this year to make the most of your marketing, here are just a few –
Shareable content – Videos, articles, information, infographics, create great content linking back to your website and get more social media fans and more traffic to your website
Great user experiences – Think about how the customer is interacting with you – your website, social media, products and services and maximise the customer experience
Get Emotional – Appeal to customers' emotions and get them to react to you, tell stories that they can relate to
Fast track for more demanding customers – The predictions are that more consumers are getting used to being in total control and expect to be able to have a fast-lane option to be able to get their things, or service in the fastest possible time. Big brands like Starbucks and Taco Bell are responding to this by creating order ahead functions via apps to speed up their experience.
Mobile payments – More and more people in the UK & the US are using their mobiles to pay for things, this is not commonplace in Spain yet, but one to look out for coming our way and think about making it as easy as possible to pay for your products and services, removing barriers to engagement
Shift from globalization to personalization – Marketing is becoming more regionalized, and more localized, even more individualized and thinking about customers as individuals and not just a number will significantly improve their experience. This is easy for a small business who knows their clients, but needs to be kept in mind as you grown.
Businesses supporting their communities – When public authorities are struggling, businesses can step in and help, providing real, meaningful change through CSR and using this to market yourself and become a really useful part of the community.
For more great information and insights, come along to our next training session with data protection expert Peter Bosbury – Data Protection in the 21st C Foundations
Thursday 12th Feb 10.00-13.00, Andalucia Lab, El Rosario
This 3 hour Data Protection Foundations course is geared to promote knowledge and understanding of individuals and companies, their roles and responsibilities when dealing with Data and, in particular, recognising the difficulties of Data Risk Management in the world of modern cross-border communications in the 21st Century. The course makes use of videos, interactive practical sessions and full presentation facilities to communicate the material. There are a number of hand-outs made available for delegates to take back into their work place for future reference.
To book your place email info@shawmarketingservices.com