Marketing Focus – Understanding Your Competition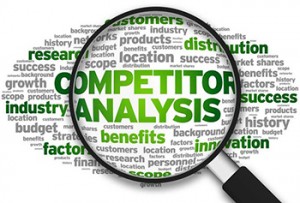 In order to successfully compete with companies who are offering similar products or services to the same target market you need to understand who they are, what they are doing, how you differ, how you are the same and what differentiates you. Many people want to hide from the competition and are hostile towards them, but it's really a case of better the devil you know – especially in such a small place as Marbella. We have an unusual opportunity to personally get to know our competitors as part of networking events and share ideas and information in a transparent way. There are often ways that you can collaborate with these companies and having a positive relationship with them will always be beneficial.
Gaining Competitor Intelligence
Competitor Intelligence is all around you and normally free and easy to get hold of, once you fully understand what it is your competitiors are doing you can more clearly evaluate your own performance, identify competitors strengths and weaknesses which should be addressed or exploited, learn from what they are doing, identify new customer groups you may not have thought of and improve both business planning and sales forecasting.
Here are 10 questions you should try and answer about your competition:
1. Who are your competitors?
Make a list of anyone who you believe delivers a similar product, service or benefit to your customer target group and keep your eyes peeled for new ones popping up.
2. What do they offer?
Learn about their whole range of products or services and see how you compare. If you are lacking, could you add in functions or services to better compete? Be sure to look at their whole offering including services and extras to properly evaluate their offering.
3. What is their pricing policy?
Compare prices and consider how this will appear to your customers who will be looking at both options. It's not always necessary to have a lower price, but make sure if you are more expensive then your communication justifies why.
4. Who are their customers?
See if they are getting access to a different customer group through repackaging or marketing which you could also follow. Looking at their client list can you see a big difference with yours, if so ask yourself why.
5. How do they promote themselves?
Look at all of their promotional activity and evaluate it against your own, trying to calculate a spend compared to yours. Are they doing anything better? How can you improve?
6. Who are their suppliers?
This can be slightly more tricky to find out, but it's worth a bit of digging to see who they are using and if possible how much they are paying. This puts you in a position of power when renegotiating.
7. How financially secure are they?
If a company is officially registered you should be able to see their company accounts, but most of the time here that's difficult, so it will be a bit of a guessing game, but worth considering potential income and predicted costs and commitments.
8. What kind of organisation are they?
Look at their structure, corporate identity and values, workforce, recruitment strategy and customer outreach. You can learn a lot about where you differ and what you could do better.
9. What are their strengths and weaknesses?
Use the information you have collected to do a SWOT analysis and identify their strengths and weaknesses, compare them against yours and work out ways to combat any strengths and exploit weaknesses.
10. What is their business strategy?
Looking at what they are doing you can evaluate their strategy and predict future moves which you can protect against if you are prepared.
There is so much information out there which can be gathered and evaluated with time. Look for ads, direct mail, press releases, exhibitions, customer comments (good and bad) and sample the product and service for yourself and see what you think. Understanding your competitors is the best way to deal with them!