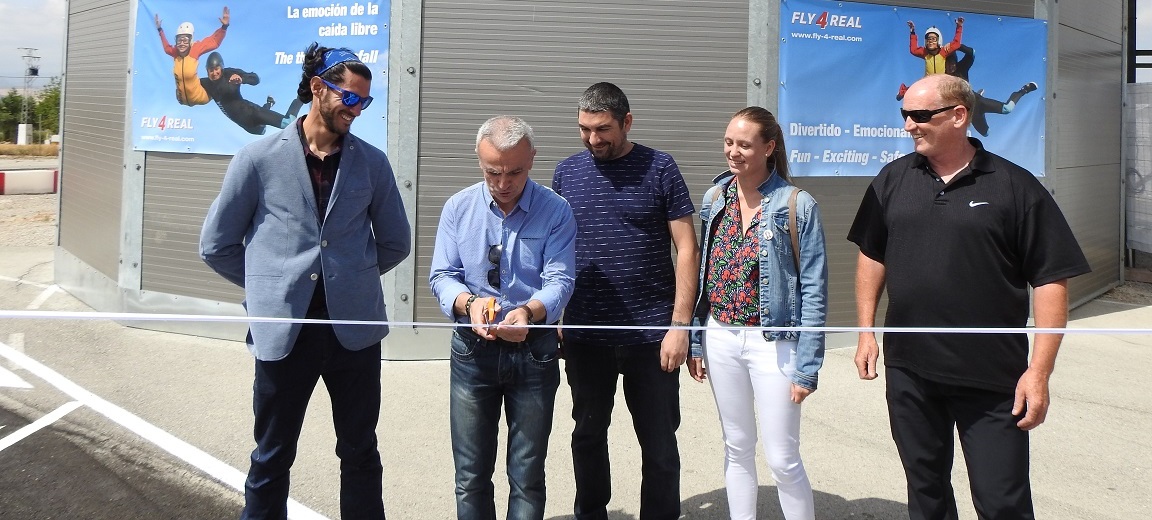 Launching Fly4Real, Spain's first outdoor skydiving simulator
Shaw Marketing Services started working with Fly4Real at the beginning of 2019, writing and building their website, creating a detailed marketing plan, advertising buying, flyer and advertising design and copy, as well as social media on Facebook and Instagram.
In Spring 2019, we started a local PR campaign by creating a competition to win flights on the new simulator, to build a database and start creating a buzz. We then sent out a pre-launch release to the UK and National Spain travel media to inform them of the new attraction, before organizing a press launch event at the site.
As part of the launch event, the Mayor of Campillos attended to cut the ribbon and even flew on the simulator. We had 17 media outlets confirm their assistance and also organized individual press and influencer visits, securing highly valuable TV, radio, print and online coverage.
Thanks to the ongoing PR activity, Fly4Real had consistent and powerful online and offline media coverage from the beginning of April to the end of September. Overall, we were featured in 55 online media, there were 18 printed articles published about the simulator, three TV features and four radio interviews, with a total coverage value of nearly 37,000€.
Highlights included features in glossy magazines in the Costa del Sol and Gibraltar, printed inclusions in the International Bali Post and Dublin Gazette, Spanish TV coverage on channels Andaluzas TV and Canal Sur, online features in national and international travel media and a front page in leading regional newspaper Malaga Hoy.
The buzz was incredible and the social media channels blew up thanks to a consistent, high profile campaign which combined advertising, flyering, bus advertising and a very effective PR campaign. Facebook in particular was very strong, launching the page in March and quickly building up a powerful follower base, hitting 1,000 followers in less than a month, with a very low Facebook advertising budget and very high engagement.
For a PR company such as ours it is a great experience to work on a novel and interesting new product and be able to reach so many people in a short time, with a relatively modest budget. View a selection of clippings here, find out more about Fly4Real on their website fly-4-real.com, on Facebook and Instagram.
If you have an exciting product, or are doing something newsworthy which would be a good topic for PR, please contact us and we can discuss the best way to maximise coverage online and offline.