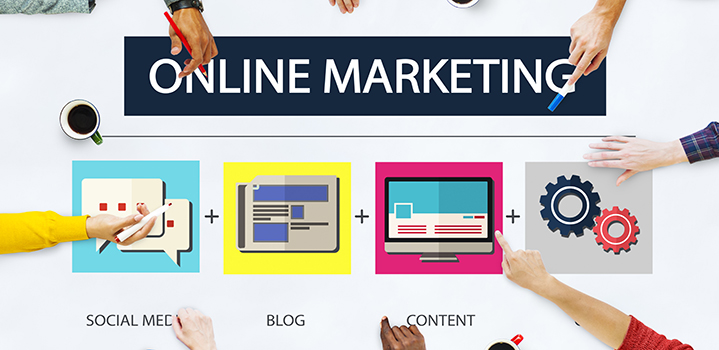 Marketing Focus – Establishing a strong online presence
Online marketing is an important tool for businesses who want to attract customers on the web.
It's no longer enough to advertise offline and create a great brand. Modern consumers are information hungry, tech savvy and empowered. So they will search for a company, service or product rather than simply take for granted what they read or see advertised or in a store. This means it's vital to have a strong online presence to make sure you appear alongside (or preferably above) your competitors in the search engines, as well as ensuring your offline presence is strong and consistent. 
There are a number of options to get online and attract clients on the web. You should appear on the right social media channels for your target demographic and have a good website. Here are some tips on how to harness the power of these marketing tools.
Have a great corporate website
The traditional platform for a business is a website. Most businesses will need a simple site which is easy to use, is mobile responsive (i.e. works well when viewed on a phone), gives your visitors the information they need and features strong calls to action and data capture. Using WordPress as a platform is recommended. It makes websites simple to create, easy for the business owner to modify and also rank better in the search engines. A simple website is like an online brochure or advertisement and a way to build credibility and trust. It works well with offline advertising, as you can direct potential customers to the site to find out more. 
Ideally, your website should also feature a blog, where you can post interesting articles which will appeal to your ideal client. Blogs will help your site to rank better, by naturally generating key words. Quality blog articles will also position you as an expert in your field. Information hungry potential clients will find your articles useful and can share them with others on social media, extending the reach of your brand online. 
Your company website should work alongside your social media platforms. Blog articles are a great source of content and you can also share relevant news, help customers get to know your team and share interesting and engaging information which is relevant to what you're selling. 
Be visible and consistent on social media 
There are lots of social media channels to choose from. The key to choosing where to be, is to work out where your customers and potential customers "hang out". This will differ depending on their age, job and geographic location.
The biggest social media platform is Facebook, with 2.6 billion monthly active users. All businesses should have a company page on Facebook – without exception.
In fact, some businesses may be able to use a Facebook page and not need to invest in a corporate website. For example, mobile hairdressers, small bars and shops, freelancers and tradesmen on a budget will probably get enough clients online through Facebook and can save their investment for Facebook advertising, business cards and leaflets for example.
In addition to Facebook, brands which have visually pleasing products or want to sell a lifestyle to a younger demographic should also be on Instagram. Those seeking B2B clients should also be on LinkedIn and if you're posting a lot of content and want to reach out to journalists, then Twitter is also a good tool. 
Videos are also becoming more and more popular with web visitors and these can be shared on YouTube, as well as uploaded to Facebook and Instagram. Video marketing online gives your company a face, offers the chance to add value and support customers when they are deciding what to buy, or even after purchase to maximise their experience. They get a higher engagement than articles, so are something to consider adding into your online marketing strategy.  
Website + blog + social media = a winning combination 
Combining a website with a blog and consistent and strong posting on social media is a winning combination in terms of brand, content, interaction and search potential. Watch our video for more online marketing tips or read our guide to using social media for your business.
If you would like to discuss boosting your brand's online presence please contact us. We are experts in online marketing, offer blog writing and social media management services and work with talented web designers to ensure that your business is performing well online.